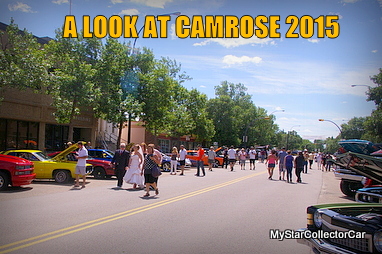 The 2015 Camrose car show was a winner in very sense of the concept.
Camrose, Alberta is a town of about 18,000 people who are fortunate enough to live in a picturesque, clean and friendly community.
We now look forward to their annual car show after our first visit in 2014 because this show has it all: downtown location, well-run, and interesting entries.
There was even a wedding party at this car show–it's that kind of social event. It also has some of the most attractive women found at any car show, so we are big fans of the Camrose car show. This year's event was another winner on both the hot car and hot babe front.
One of the most unusual rides at the show was a 1974 Buick Century station wagon. This car was an attention-getter without a purple paint job-but the purple skin helped make this car really stand out on Camrose's Main Street.
The wagon has a long and interesting history with one family and its current big block magnificence makes this Buick's story a must-read in a future MSCC article.
Another ride that caught our attention was a 1934 Dodge hot rod equipped with a big block Mopar. Most builders choose a 350 Chevy for a hot rod project, but this owner explains why he chose to stay in the Mopar family with his weapon of choice.
Find out why he chose this beast of a motor in a future MSCC feature story.
We spotted a beautiful 1971 GTO convertible at the Camrose show and learned how it went from a barn find to a full-on street monster from its proud owner.
MSCC will reveal its secrets in an upcoming article.
A 1964 Dodge Polara 500 with a 426 Max Wedge and offset twin four barrel carbs caught our attention in a big block way.
The plumbing on this Mopar monster engine would be enough to baffle Einstein, but its owner had the car purring on an aviation fuel/ high octane gas blend.
We interviewed the owners of a 1957 Ford retractable at another show about a month before the Camrose event and assumed we spotted their car at this show. We were wrong because this remarkably similar '57 Ford retractable was owned by another lucky car guy.
This owner was a detail guy and educated us about the iconic Ford with the disappearing metal roof. It was appropriate that he only played 50s rock and roll over his Ford's sound system because he and his car were both young when Buddy Holly was alive and topping the music charts.
We tracked down the owner of a 1961 Chevy truck fairly easily because he had a T-shirt with the truck's photo image on it. His wife Rose had given him the T-shirt and he had named his truck Rose after her.
Find out the secret to a great marriage in a future MSCC story.
Who can forget Suzanne Somers in her role as the beautiful but elusive driver of a 1956 T-Bird in American Graffiti? Certainly not any red-blooded young male movie-goer when they first saw the movie.
We had a somewhat similar moment at the Camrose show but, unlike the Richard Dreyfuss character in American Graffiti, we were far more interested in the car than the owner. The car was a 1956 Dodge Custom Royal four-door sedan and its owner was nowhere to be found at the show.
We kept circling back until we could find the owner, but eventually we found an empty space where the Custom Royal was formerly parked on the street.
Later we spotted the Custom Royal in traffic as we were leaving town and ran into the same problem as Richard Dreyfuss when he was on a plane and spotted the T-Bird on the highway below him at the end of American Graffiti: wrong place-right time.
It was the only disappointment at a great car show.
Jim Sutherland
CLICK HERE to Like us on Facebook
CLICK HERE to Follow us on Twitter
CLICK HERE to Follow us on Pinterest
Please re-post this if you like this article.