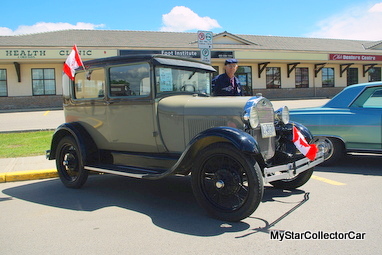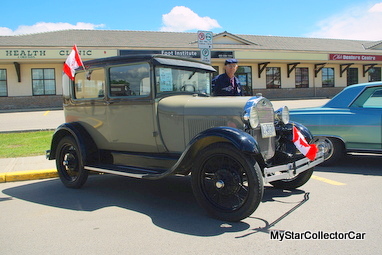 The Model A Ford was the successor to the legendary Model T but it did borrow heavily from its older sibling.
The key to both cars was simplicity and universal parts.
Dan Wiebe is a huge vintage Ford guy and he had a building full of parts so his natural goal was a little removed from the average guy's vision of a car project.
He built his 1928 Model A from parts.
Dan explained his game plan in very simple terms, "Seven years ago, I had a bunch of Model A parts and I put them together and painted it. It took about a year to put together".
That's the condensed version of the story from a very modest guy, but this '28 Ford build was far more complicated than building a barbeque from Home Depot.
Dan's roots with Model As go back several decades as he recalled, "This is not the first one I had because I had one back in the 50s".
This is a classic example of how nostalgia drives the car hobby but very few guys literally hand-build their memories from parts.
This Model A may be the sum of its parts but Dan did make one concession to modern technology, "I tried to keep it original but I had to replace the 6-volt generator with an alternator when my generator blew up".
The '28 Model A is far removed from the label "museum piece" because Dan built this car to drive, "I keep it clean and I like to drive it around town but I try not make it my second car but I do go for coffee in it now and then.I like to do a lot of local things in the community like weddings and birthdays. I was at one for a lady who turned 100″ and I like to drive it out to my son's farm".
Model As are reasonably easy to drive but the real difficulty is the lack of public awareness as Dan explained, "Some people push the limit on this car because in the city it's real bad – they'll push their brakes in front of me but they don't realize this can't stop like their car. The steering and brakes are pretty stiff too".
There are a few more limitations, "I don't like to drive it in the rain, the windshield is still pretty straight but if it's really bad you do get caught plus it doesn't have a heater".
Overall, Dan gives his '28 Ford a passing grade on the driveability scale, "It runs pretty good, it doesn't run hot at all, it stays pretty cool. It runs at 45 miles per hour pretty easy but I could get it up to 55 if I wanted to".
Dan has an annual car show that he likes to attend every year and he's been lucky so far, "It's about two hours away, I take the back roads and hit 21 and average 40-45 miles per hour on the way. People treat me with respect and I sometimes drive on the shoulder but I prefer not to".

.
There are a few personal touches on the Model A as Dan explained, "My friend John built the bumper seat – that's been really handy". The long term plans are clear for Dan's '28 Model A, "One of my sons wants it in the worst way".
Therein lies the magic of a parts bin.
Jerry Sutherland