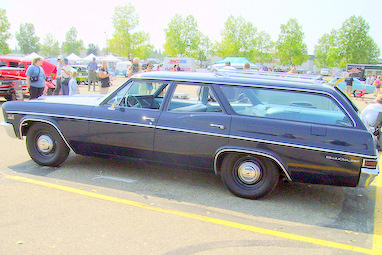 Everybody has a favorite car in his or her dreams, but Jim Adams has a favorite big block engine to add to his dream.
Jim likes the monster L-72 427 Chevy power plant that was factory rated at a conservative 425 hp.
'1960s Big Three factory horsepower ratings tended to lean toward a lower than realistic number for insurance purposes, but these killer engines had a lot more horsepower than advertised in the stable.'
Jim is a big fan of the large Impalas of the mid-60s and he has begun to assemble his collection of the L-72 big block editions, including this very rare 10,686-mile beauty that spent 35 years in a Costa Mes,a California GM dealership showroom.
This Impala has led an easy life and it will enjoy an even easier future in Jim's collection.
The Chevy wagon is a low mileage big block 4-speed street monster that will never have to prove itself in the hands of an irresponsible owner with Jim. He has launched it only once just to see what a 60s kid-hauler with too much horsepower could do in pedal to the metal battle form. He found out- a lot.

This car still has the original rear seat plastic from the factory and it feels like you have stepped back in time about 46 years when you slide behind the wheel.
Jim wants to keep that level of condition for as long as he owns it. He is a caretaker of a rare model of Detroit automotive history and he wants to preserve this ultra-rare wagon in its present condition forever. He also wants to keep it forever, so it will never be a Barrett-Jackson Saturday feature car under Jim's careful watch.
Congratulations Jim, you own the only current example (one of two made) proved to be still in existence of a passenger pigeon-rare wagon from the General.
'And you own it for all of the right reasons.'
Jim Sutherland