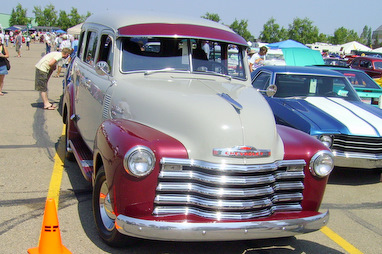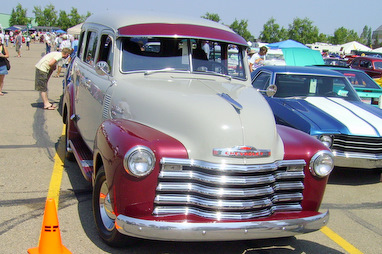 Ron is a mover in the traditional sense in that he owns a business that moves stuff.
That was the reason behind his purchase of his resto-mod 1953 Chevrolet Suburban that has show winner written all over it.
'A career in the moving business is no longer in the cards for Ron's Suburban, but it does a great job moving him from show to show, and it draws a lot of attention at every one of them.'
The truck is a rare model because it has a window package not typically found on these vehicles.
They were more likely to be found in a more traditional style with less glass and more metal because they were working trucks in their day.
Ron's Chevy Suburban was used as a pottery delivery van during its working career, then was used for camping, and now it enjoys its new part-time job as a show stealer. The custom paint job was applied in 1980, but it looks like it was applied last year.
The front end is a Cadillac donation and the rear end was donated by a Camaro. The brakes have been upgraded to four wheel discs and the power train is pure Chevy 350/ Turbo 400.
You could drive Ron's Suburban anywhere to attend car shows and two things would be readily apparent: You will arrive in style and comfort. You will also draw a crowd when you get there in this Chevy.
Ron always does, but now he is used to all of the attention.
Jim Sutherland