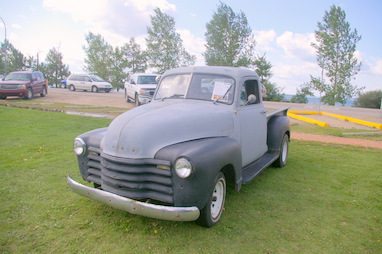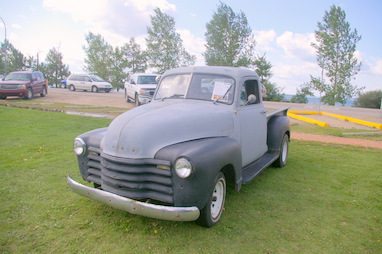 The first thing to notice about Richard Laszchuk's 1952 Chevrolet truck is that it's not the prettiest 1952 Chevy ½ ton left on the planet.
But this Chevy has one of the best stories behind it at any show. Richard and his son spend plenty of weekends on the road during the summer car show season and they are all about the journey to get there in their truck done on a budget.
Sure Richard could have devoted his weekends to a massive restoration of his beloved Chevy, but he had a better idea:Get it on the road and spend the summer on the road with his son.
Richard's son was in remission from a serious illness and he wanted to hit the circuit with his dad. It was a great plan and the two road warriors had already put over 6000 miles on the truck by mid-summer of 2009.
It doesn't get any better than that for the two of them.
The truck itself is a very interesting blend of recycling and good mechanical ability from Richard. The front seat was found by a dumpster and the differential was found in a ditch, so the price was right for the parts.It sports a GMC tailgate but the primary function of a tailgate is served by the Chevy first cousin 'gate because stuff stays in the back of the truck.
The engine is a 6-cylinder borrowed from a 1958 Chevy donor truck and the transmission is a Ford model because it was available and also provides 27% more efficiency with its gear ratios, according to Richard. A dual master cylinder was added to the brake system by Richard because safety is a big issue for him on the road trips.
The net result is a very smooth-running vehicle that will take Richard and his son anywhere they want to go on the road.
It has been a trouble-free and carefree adventure for them and falls well within the Mastercard boundaries: priceless.
"Thank you for putting the old Chev on your page this made Ivan's and my day the old truck will be getting a new interior . Plus some good news Ivan has made a complete recovery and is looking forward to next summer Thanks again Richard"
Jim Sutherland