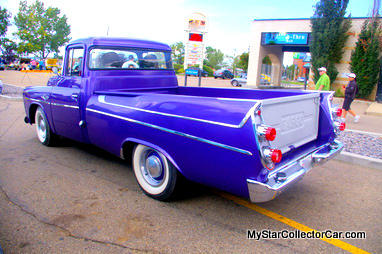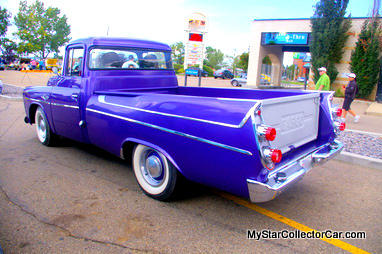 We found this striking 1957 Fargo in a herd of vintage MoPar trucks at a Mopar car show.
Most of the herd was owned by the Scott family, specifically Ron Scott, a second generation Mopar man.
Ron makes no bones about his brand loyalty and he has clearly invested in his trucks because they are an affair of the heart for him.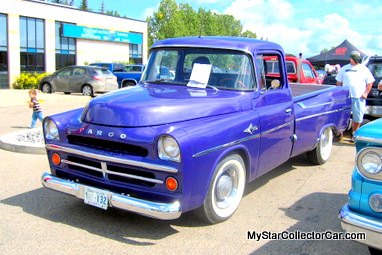 This purple 1957 Fargo Sweptside is a Canadian version of Dodge that was sold by Canadian Plymouth dealers as a specific brand. The main difference was the badge, but Fargo trucks are quite a conversation piece in collector circles. Bottom line-these are extremely rare beasts of burden.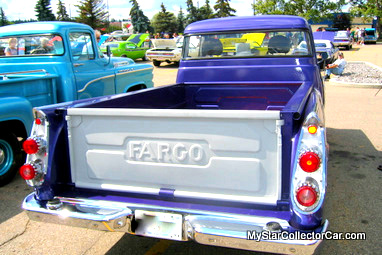 Ron's modified '57 is even more of a conversation piece because of its purple exterior and newer power train. But you won't find a Chevy heart in this Fargo, Ron would probably blow up the truck in the north 40 before he put anything non-Mopar in his truck.
The truck has a 1978 Volare front end and a 318 to make it run down the road. Ron even chose a Plymouth parts donor in honor of the Fargo/Plymouth connection- or at least we assumed that to be true after a conversation with him.
We guessed that Ron has a penta-star shaped heart after a conversation with him. The seats also have a mandatory Mopar heritage because they were donated by a 2003 Neon.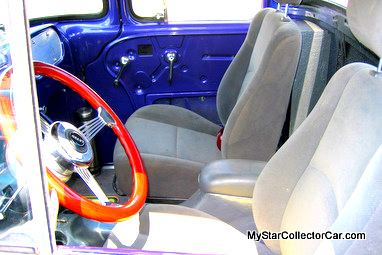 Sweptside pickups from the 50s are bound to draw attention because they are as rare as places to buy a black and white TV in 2011. Put a purple paint job on one and expect to draw crowds at car shows.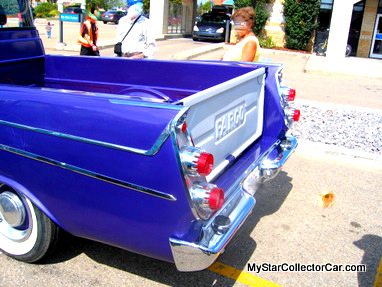 Ron is used to all of the attention.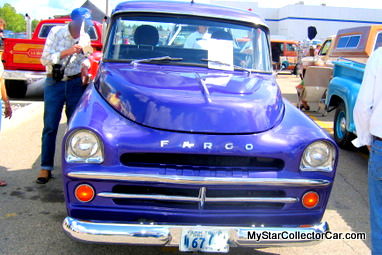 He loves the look of his rare truck and is more than happy to explain his ownership: it's in his genes.
Jim Sutherland
Many more stories at–https://www.mystarcollectorcar.com/3-the-stars/star-truckin.html