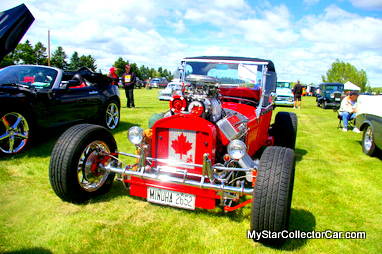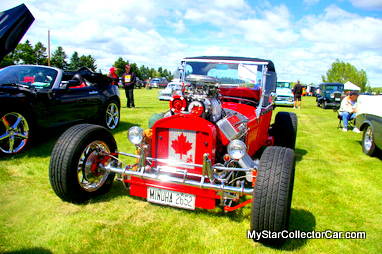 Lou Shirvell has coveted a Model T hot rod since he was 15.
A more experienced hot-rodder asked him "have you ever ridden in a T? It's the roughest riding vehicle ever built?"
An undeterred Lou found what he wanted decades later and this classic rod is the end result of the search.
It's a natural fit-Lou looks like a hot rod guy from Hollywood casting.
But he didn't count on the flag controversy.
The story begins with Lou's passion for early Chrysler Hemis. He's accumulated them since his first one-a 1953 Imperial. It was rusted so badly that the hinges were seized but it had that magic heartbeat-a 1st generation Hemi.
Since then Lou has nearly cornered the market on vintage Hemis because as he says,"anytime I see a Hemi I buy it. And I travel with a car hauler". One of his more lucrative purchases was a 70,000 mile '67 Hemi GTX that he kept for 2 years then sold to continue his search for a T.
His infatuation with all things Model T and Hemi engines is even more inexplicable when he confesses that, "I'm really a Chevy guy". But the search ended when he found this T and after a 2-year build he had his dream machine.
This little T is a classic street rod that combines function and form. For example, the floors are 3/8 inch steel "just in case he gets T-boned". The motor is a period correct-no surprise..a 392 Hemi. Lou went straight-on old school with a 50s "anything can work" philosophy so the little T has an '82 Vette rear end, 1947 IHC steering column, Turbo 400 transmission and a '47 Fargo horn.
Lou may have overshot the runway on this lightweight little street demon because he's run 128 mph in the quarter mile including 3 passes at 12 seconds where as he reported, "they kicked me off because I didn't have a roll cage". He's philosophical about that though because he knows that the results will stand forever.
Now he's content to run the odd 1/8-mile in the T "just to blow the carbon out" plus he's always on the road facing real weather. In fact, the weather has been so real that he was caught in a major hailstorm where " I never had a top, just sunglasses and a ball cap, I ended up with a cab full of 4 ½ inch hail just after I went into a 400 foot skid. A couple of motorcyclists had stopped because of the weather and they thought I was a stunt driver".
Most importantly, Lou has found what he's wanted since he was a kid. He admits that the inner kid in him takes over every time he points this little T with the gargantuan motor down the highway.
The flag controversy? Somebody with a website dedicated to cars of the 50s and 60s took a picture of his T and put it on the site-without the Canadian flag on the radiator.
Maybe it was an Iranian, North Korean or Libyan site but on this site we celebrate flags and cars from all over the globe, so here's a final look at Lou's dream T.
Jerry Sutherland
For more car guy stories click here-https://www.mystarcollectorcar.com/