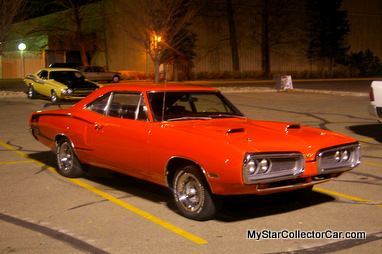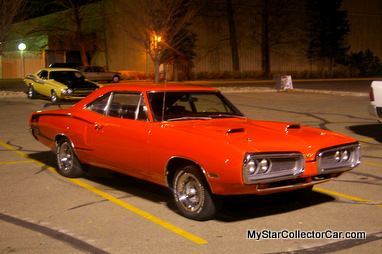 This isn't the first 1970 Super Bee Terry McCrindle has owned but fate has insured that it will likely be his last.
He owned his first Super Bee when he just out of high school but a committee meeting decided Terry and his beloved Dodge were not a good fit as a partnership.
The committee consisted of his dad, the police and Terry.
Terry now admits the decision was extremely wise as he relates, " the police came to the door and Dad made me get rid of it. It was a case of the car goes or I go. That was after a couple of weeks".
Twenty years ago Terry tried to rekindle the relationship with a '69 Super Bee but as he related, " I hauled it home and lost interest and got rid of it. I didn't regret it". That '69 wasn't fate.
Fittingly, a few years ago Terry found a 1970 Super Bee at an auction so he checked it out on the Internet and it was interesting enough to attend the auction-but even then he had no desire to actually buy the car. Until he saw it…then fate kicked in and he became a serious buyer as he explained, " I had no intention of buying the Super Bee, I saw it phoned my wife and she said okay".
Magic words that every car guy lives to hear.
He set up the finances and admits, "his kid's university fund took a hit" but he had a 1970 Super Bee again-that's the Cinderella ending that gets every red-blooded car guy a little misty no matter how often they hear it.
Terry's new Bee needed a few things and as he says, "1970 Super Bee parts aren't that easy to find". The biggest focus was the undercarriage and Terry handled that with new springs and front end parts-all the wear parts were replaced. He upgraded the wheels to 15″ and he added an option from 1970-the Go Wing spoiler.
This is basically a driver for Terry because as he says, "they're a good driver and they're meant to be driven". He's a regular at car shows and he has the hardware to prove it with a few trophies. Those awards back up the standard that Terry has set for this car even though he has more fun driving the car to the shows. A recent problem with a voltage regulator en route to a recent show didn't dampen his enthusiasm as he says, "I just got there a little later".
Terry is a much more responsible guy in 2011, so the odds are pretty good that his wife won't get a knock at the door from the police about his Dodge. That's fate because Terry was clearly destined to renew a partnership with a 1970 Super Bee when he could handle this classic muscle car.
No committee meeting required…
Jerry Sutherland
For more car guy happy endings click here-https://www.mystarcollectorcar.com/2-features/stories.html