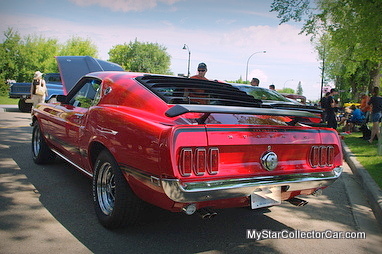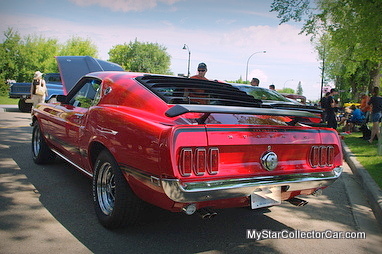 A flawless 1969 Mustang Mach 1 parked in the shade on a beautiful summer day is a pony car of major significance to the Blue Oval fans, or any car guy for that matter, so we seized an opportunity to track down its owner.
Daniel Pelletier is the proud owner of this flawless and rare pony from the muscle car era of the 60s.
Daniel has worked overseas for the past 24 years and felt he owed himself a little welcome home gift, so he looked for the perfect choice: a beautifully restored Mach 1.
This pony would be a welcome home gift for the ages with any car guy and it was clear Daniel had bought himself the perfect gift.
A 428 Cobra Jet Ram Air big block attached to a four-speed manual transmission is a pretty good way to hit the road when Daniel got home from his overseas job.
The car needed very little work when he bought it, but Daniel is the kind of owner who likes perfection, so even his wife was involved in details like the upholstery in the Mustang.
The result is a 1969 muscle car that looks like it just left the Ford dealership in time for the Apollo 11 moon landing back in the Sensational Sixties.
Daniel described his purchase this way: "It's a toy" but what a toy it is when you own a flawless period-correct 1969 Ford Mustang Mach 1.
The Mustang will run at highway speeds all day and Daniel is comfortable at 70 mph behind the wheel of his 45-year-old muscle car legend.
He does admit his 'Stang follows the 60s performance code of brute force straight- ahead efficiency and "not so much in the curves" in his words.
The wheels are even original equipment on the Mach 1 and they have retained their incredible curb appeal over the past 4 ½ decades. This car looks fast at a standstill and is very fast when called upon to run with the big dogs on the road.
These days Daniel is content to pamper his Mach 1 so the rear tires on the pony are safe from abuse caused by giant Ford big block torque and a heavy foot.
In fact the pampering extends to detailing during which he confessed: "I can't stand doing nothing so I am out polishing it".
He does take time to hit the open roads and enjoys time behind the wheel more than time behind the polish cloth when it comes to his Mach 1.
Daniel's decision to drive it is great for the public at large because his Mach 1 is a truly impressive example of a rare Ford muscle car from the 60s.
MSCC would like to congratulate Daniel for his excellent choice in toys and his ability to keep his toys looking shiny and new because a 1969 Mustang Mach 1 is an impressive toy.
Jim Sutherland