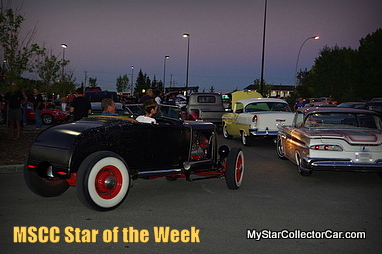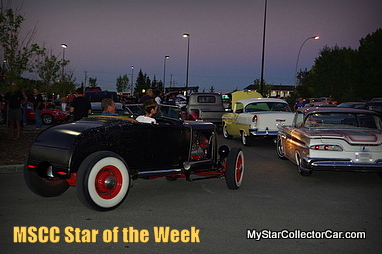 JANUARY 5 2013 MSCC STAR OF THE DAY: THE MAGIC OF THE DAY'S END AT A CAR SHOW
Car shows are a fantastic experience on their own but if you mix in some great late summer-early fall weather you get an experience summed up in one word.
Magic.
This was an extremely large mid-week car show and the night couldn't have been better for the thousands of people who came out to see old iron.
This show was right out of Hollywood casting because you had every type of vehicle imaginable and weather that was more tropical than temperate.
Maybe that's why nobody left until the sun went down.
That's when this MSCC Star of the Week picture was taken.
JANUARY 4 2013 MSCC STAR OF THE DAY: '58 PLYMOUTH WAGON-FUNCTIONAL FORWARD LOOK
The Forward Look Mopars were known for fins, engineering and performance but they were also functional family cars.
This '58 Plymouth wagon is a solid example of fins and function.
The 1950s were Baby Boom years so station wagons were almost mandatory equipment in the Elvis era.
This MSCC Star of the Day was at a show back in September 2012 and it's a piece of Mopar history that's rarely seen in the 21st century.
MSCC JANUARY 3 STAR OF THE DAY: '59 CHEVY EL CAMINO-BAT WING PICKUP OOZES COOL
Clearly,in some ways, the Chevy El Camino doesn't make any sense.
They're too lightly sprung for a heavy load and any real job site would leave them high-centered in mud.
You sure couldn't pull a fifth wheel with one and any attempt on a hunting trip to cross a creek in an El is only going to result in a painful, wet and very unsatisfactory experience.
Does it really matter? You drove a '59 El Camino for style, not substance and this MSCC Star of the Day makes a strong case for cool form over function.
MSCC JANUARY 2 STAR OF THE DAY: '63 MERCURY-HERE COMES THE SUN
This has been a long, cold, lonely winter to paraphrase the Beatles.
Car guys have a great fallback position in their garage with a winter project but there's nothing like a beautiful July day to really capture the magic of old iron.
That magic was evident back in July 2013 when this '63 Merc was spotted in all its glory on the streets of a very popular summer resort town.
This MSCC Star of the Day really defined Here Comes the Sun.
It can't come soon enough.
JANUARY 1 2014: NEW YEAR'S STAR OF THE DAY- A COLLECTION OF PONTIAC TRANS AMS
Burt Reynolds turned the Pontiac Trans Am into a Hollywood star with the 'Smokey and the Bandit' series.
He needed a getaway car and the T/A was a logical answer. They were loud and fast and kicked up dust better than any car in '77.
T/As were popular long before Burt Reynolds took one for a rip in the movies but he sure didn't hurt sales.
This MSCC New Year's Star of the Day row of Pontiac Trans Ams was at a September 2013 show but there were no reported Burt Reynolds sightings.
DECEMBER 30 MSCC STAR OF THE DAY: AN OLD IHC..MORE THAN JUST A CORN-BINDER
International Harvesters are affectionally known as "corn binders" thanks to the legacy of Cyrus McCormick.
Cy invented the reaper and he owned International Harvester so the the trucks came by the name honestly.
Corn binder actually applies to any form of farm equipment that saves labor and improves efficiency on the farm so it's a very positive nickname.
This MSCC Star of the Day IHC was on the job a few years ago with a giant load of pumpkins and it proves that corn binders were equally adept with other crops.
For past MSCC Stars of the Day please follow this link.
Star of the Day page sponsored by Southside Dodge.