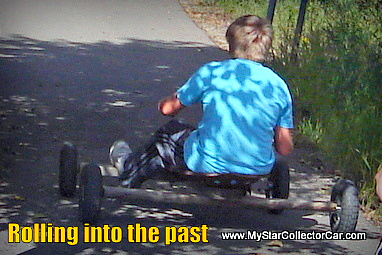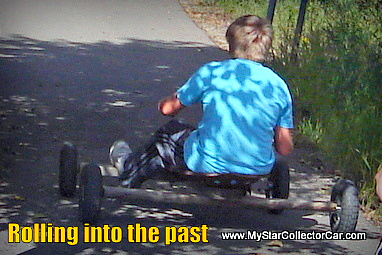 I managed to visit the past in an unusual way during a recent visit to a small hamlet of about 50 people.
The main reason for the visit was a car show in one of the most picturesque little places for a show in our neck of the woods.
The little town is called Markerville, Alberta and it is a community where you feel like you have stepped back in time to a place where the pace of life was slower and the people have not forgotten their small town hospitality.
The main street is a treed boulevard that runs right beside a slow moving river and is the perfect place to put on a car show.
There is a foot bridge right across from the historical creamery/local museum and it leads to a camping area and baseball field. The little town even has a bandstand in the middle of a well-treed park behind the creamery and museum.
I managed to interview a local farmer who had brought his 1913 Willys Overland to town for the show and will do his story in a future edition of MSCC. One hundred year old cars are not common outside of museum displays, but even that Overland was not the subject of this story.
Although I mentioned the bridge, I never mentioned the time travel moment back to my kid days at the other side of the bridge. The bridge had a reasonably steep incline at the other end and I spotted two kids perched at the top ready to launch their wooden car.
The bolder stunt driver was sitting on the contraption and ready to let gravity, momentum and his buddy's sendoff shove allow him pilot the car down the hill and into a sharp almost 90 degree turn at the bottom.
There were no responsible adults/helicopter parents hovering around this scene, most of all me, so the two kids had a green light to take the run and send me on a big wave of nostalgia. They had built a wooden car that closely resembled most of the contraptions we built as kids and they had done it in 2013.
There were only a couple of minor differences in the carts from my childhood: We used lawnmower wheels and we had rope tied to both sides of the pivoting front straight axle to steer it. These two cats had bigger wheels and the young stunt driver steered it with his feet.
The one thing I remember most about the wooden cars was their incredibly sensitive steering that changed direction much faster than necessary and far beyond the ability of a kid to completely control it. Few of us chose this kid's foot steering system and instead went with the rope-in-the-hand steering system, so I was curious about how well he would do on his run.
He got up a pretty fair head of steam by the time he hit the bottom but he took that right turn like he was Michael Schumacher-driving with his feet. He was smooth as glass and I was very impressed with his performance.
The very young driver and his buddy had embraced a kid activity from decades before their new world of computer games and imaginary video driving games played by most kids in the family rumpus room. Their car was a real world kid car and a crash would have meant real world scrapes, bumps and bruises for the driver.
It was a breath of fresh air for me to witness something I had done many times as a kid; take chances on some of the worst four-wheeled machines ever engineered and constructed by elementary school race car builders with no adult supervision or intervention during the test run process. This kind of thing is almost extinct in our new world where parents wrap their kids in suffocating thick layers of bubble wrap and try to protect them from any kind of life experience that is not on their list of structured fun. This is what makes Markerville such a great little show.
Thanks for the gravity-assisted trip down memory lane to those two young guys who brought me back to my own four-wheeled wooden contraption days as a kid in a big way.
Jim Sutherland