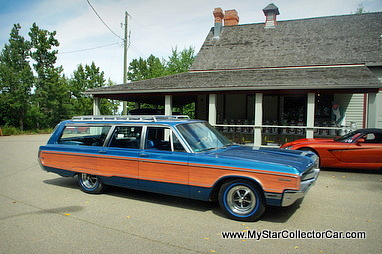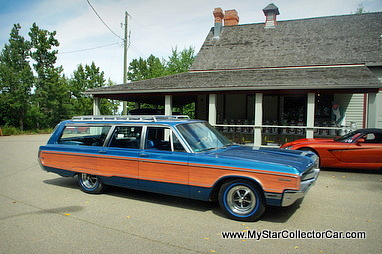 There's no question far more kids rode in station wagons back in 1968 than Hemi Chargers because this was the Baby Boomer era.
Baby boom meant lots of kids by definition so a '68 Charger was only a dream for most suburban fathers back in '68.
Peter Swainson is a muscle car guy who grew up in the 60s with a huge affinity for cars like the Chargers GTXs and Cudas but he actually rode in a '68 Plymouth Sport Suburban wagon.
That's why this confirmed muscle car guy began a search for his past that ended with this 1968 Chrysler Town and Country station wagon.
Peter explained it this way, "This car resembled my Dad's Sport Suburban, the one we had back in '68. I was looking for a Sport Suburban and I found this one. We used to camp with it, we hauled a 17-foot Travelaire trailer behind it. My older sisters stayed in the wagon and me and my younger sister and our dog had to stay in the trailer. They got the wagon because they were older".
Station wagons are spiking in value because a lot of guys began to realize that authentic automotive memories from the 60s have to include the big wagons. Fortunately, a few station wagons were spared the shredder or a one-way trip to a demolition derby because these cars ooze cool in 2013 when they roll into a show.
Peter's Town and Country turned every head at a small town car show when it rolled in because these are sheer presence cars. Wagons bring the often-repeated "my dad had one" obvious statement to the highest level because so many fathers did own wagons back in '68.
Peter liked this big Mopar because as he recalled, "It's really close to what he had back then. Same color and woodgrain so I had to get it".
This '68 Town and Country was a northern California car so it wasn't beaten up by decades of brutal winters. Peter is a hardcore car guy so he knew what to look for and this car passed his scrutiny with very few concerns.
Insightful initial assessments are a huge issue with big, rare wagons because you can't just open up a parts book for a '68 Town and Country wagon-these aren't '68 Mustangs.
Peter was pleasantly surprised with this old family hauler because he only had to focus on cosmetics, "Work-wise, it's been repainted plus I redid the wood grain and recovered the seats. The door panels are all original and the power train was great. I just had to detail the engine compartment. There's a picture of this car from a few years ago with 17-inch Cragar mags-those were gone pretty fast. The blue-streak tires are something I added, not sure they were correct for '68 but I just liked the look".
Peter Swainson is a student of old iron so he knows the options like a human encyclopedia, "This was a full-load car 3-seat car with every power option available. The only thing it doesn't have is the rear A/C option".
Peter didn't spend time behind the wheel of his father's '68 Plymouth wagon but he's making up for it in his Town and Country, " It's a dream to drive, this is a 440 so it's great on the road".
Mopar muscle cars have been Peter's passion since he was a kid and he's particularly fond of 1971 Plymouth muscle because that's the year his family started their Southside Dodge operation. They sold Plymouths back then and Peter felt a little pain every time a big block Mopar left the showroom for good.
Peter owns some pretty unique Mopar muscle now and he's owned some incredibly rare cars but as he got older he started thinking about those station wagon vacations back in the 60s. He realized those big Mopars were also a big part of his past.
The real evidence that nostalgia matters came when Peter drove away in this big Chrysler wagon because his daughter was in the rear-facing kid's seat at the back.
That's a Swainson family memory he loved to share.
Jerry Sutherland