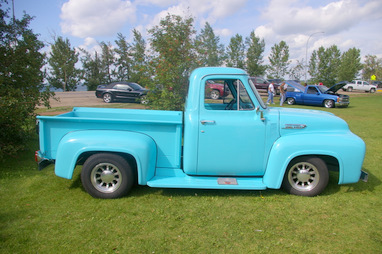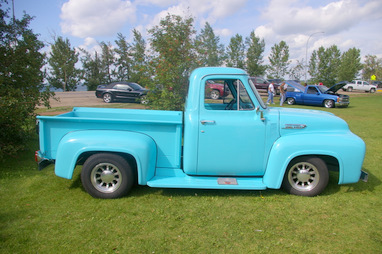 Sid Krawczyk owned a Ford way back in his younger teenage days and, like so many other car guys, the memory stuck in his "fondly remembered and never forgotten" file.
'So he decided to revisit that footloose and fancy-free era of his life and get another one.'
He found a 1953 Ford that needed a lot of work in 1986.
The project encountered its first setback when Sid discovered that the truck had a cracked frame. The upside was that the body was in reasonably good rust-free shape and only wore the battle scars of daily real world use up to its retirement. It had also been stored under cover so the real issue was not a fatal amount of rust.
It just needed to be massaged back into its pre-work use dent-free glory.
Sid solved the frame problem with a 1956 donor truck and began his rather lengthy restoration project. Sid admitted that a "whole lot of lazy" came between him and a shorter completion date, but the end result was a very nice 302 Ford-powered resto-mod that takes Sid and his wife anywhere they want to go on the summer show circuit.
The project reached completion in 2000 after a 14-year bout of a casual approach by Sid that got a big boost when he gathered up the scattered pieces from his living room and took them out to his garage.
Then he also moved his TV out to the garage and the magic started to happen. Suddenly the truck was in one piece again when Sid realized that he might as well do something constructive while he watched his favorite TV shows.
The move to the garage probably made Sid's wife pretty happy, but she is also happy to spend time on the road with her husband and the truck.
It's a lot better than a crowded living room for the three of them.
Jim Sutherland