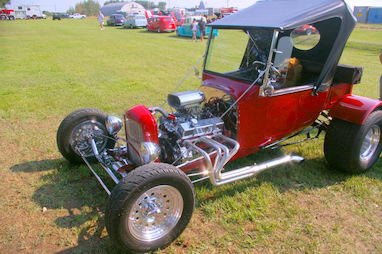 One of the things that you will have to take for granted is that this T-Bucket's owner is hotter looking than her car.
But we showcase cars so Sherri is not in the shots.
'We apologize for that but she wanted to show her car- not herself.'
Sherri has owned her ride since 2005 and things got interesting in a hurry for her when she bought the car.
She really didn't like the front end assembly because it was too weak and dangerous for the road.
This is the point when Sherri's other less obvious talents became apparent because this girl can twist wrenches. So her 400 Chevy small block got a mechanical makeover-Sherri style.
Three years later, the T-bucket got a complete front end swap that included a massively upgraded steering upgrade that could handle the fast small block.
Sherri also rebuilt the frame for the same reason because a flimsy frame is a dangerous mix with horsepower.
Sherri was able to build her rod to her own specs after she bought it and, like most car people, she has some blood in the game with her mechanical talents.
'She just happens to look better than her T at car shows.'
Jim Sutherland