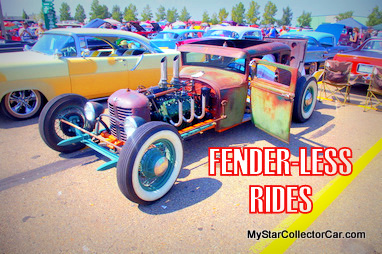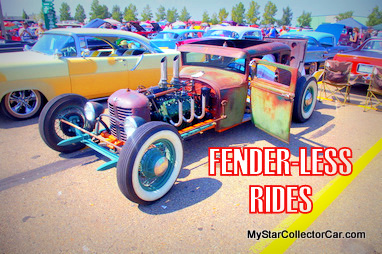 The concept of fender-less cars goes back to the earliest days of the horseless carriage.
The idea of fenders was largely created by crappy weather conditions and passenger comfort.
Higher speeds in faster cars meant that the tires served up a generous buffet of road debris on public roads.
The tire spray was annoying to your passengers and potentially lethal to the tailgater in the Flivver behind you.
So Detroit created fenders to alleviate the problem.
Soon after, car guys took fenders off their cars for reasons of weight and style. Less weight meant faster speeds in an era when power to weight ratio was an even bigger issue.
The post-war car guy generation pulled fenders off their 20s and 30s rides, added then current late 40s and 50s V-8 OHV or flattie hearts, and fired up the hot rod culture that survives to this very day.
The stripped-down Eisenhower-era buggies were road rockets that drew the attention of law enforcement agencies because their young drivers were a little lead-footed- well maybe a lot lead-footed.
The rules for fender-less vehicles still exist in many jurisdictions. In short, you must have fenders on your car in many American states and most Canadian provinces.
The laws have been on the books for decades, but their enforcement appears to be a discretionary issue for law enforcement agencies. No doubt they were enforced when a mouthy young hot-rodder talked his way in to a fender ticket in the 50s.
But these days, the hot rod culture is allowed to operate in a gray area when it comes to fenders. A ticket for no fenders is not impossible, but it is less likely than a ticket for typical hot rod offenses like smoke shows and other foot-to-the-floor hobbies.
A typical fender-less ride is usually also a fair-weather ride. Their owners usually avoid bad weather because many of these old school rods are also old school topless, and nobody (except Harley riders) likes riding in the rain.
These days we see a lot of the old rods at car shows. Some of their owners are clearly old enough to have caught the first fender-less wave in the 50s. Other younger disciples are clearly influenced by their older hot rod brethren.
But anybody with a fender-free ride probably already knows that a ticket for no fenders is only a bad conversation with a traffic cop away so…
'be nice to them and they may not enforce an old law that is still on the books in many places.'
Jim Sutherland
Many more car stories at–https://www.mystarcollectorcar.com/