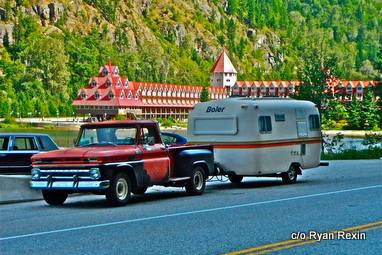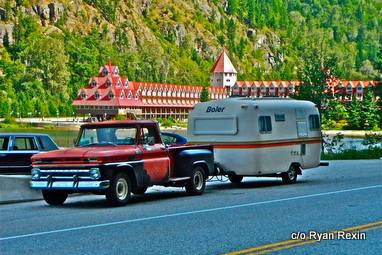 Ryan Rexin is a farm kid so basically every vehicle he owns has to serve a practical function.
That's a rare attitude in the world of old iron but farm kids are hard-wired to own functional vehicles.
This '65 Chevy C-20 pickup worked because it has function and form.
Ryan explained the background to his hard working old Chevy truck, " I wasn't looking for another old vehicle, or project but I was driving 154 kms a day to and from work. and I didn't want to mile out or kill my 2007 GMC 1 Ton. (I bought the 07 new, with plans to be that guy when I'm in my 60's to say, I bought that brand new in Feb of 2008, and it's still original (I envy those guys)".
Ryan wasn't sure what he wanted, "So I was looking for a beater back and forth vehicle that was good on gas. I found neither. I came across a 1965 Chevy C20, step side, 4-speed, 283 with a 2-barrel and a 4:57 floating rear end. I couldn't resist".
Finding old iron is easy-the tough part is post-sale spousal negotiation, "I told my wife (weren't married at the time)how cool would that be driving an old vehicle year round as a driver. So she let me dip into our wedding fund to buy the truck. My plan was to drive it until it wrecked then do whatever with it".
This wasn't a pristine truck as Ryan admitted, "The fenders were rotten, I spray foamed the holes in the floor, then eventually got around to bondo-ing the fenders. Everything was temporary until I could afford to fix it properly".
Driving an old ride is an extreme learning curve but Ryan had fun, "A couple months into driving it, she started to back fire, and rather then fix the problem, I learned how to make it back fire and would do so to passing people with a 4-ft flame coming out of the tail pipes. I thought was pretty cool".
This '65 Chevy was destined to earn its keep, "I used it as it was, a work truck because both mine and Dad's 1-tons were too big to fit between the trees with the fence post pounder, so we used the '65. That was the end of the bondo. I shook almost all the bondo out of it, broke cab mounts, yeah, it wasn't good. But I continued to drive her".
More adventures followed as Ryan explained, "After completing a service on her, oil change, etc. I also changed my fuel filter. I asked the kid for an inline fuel filter and he gave me one and at this point I did not know there were different size fuel lines.I pulled the old off and put the new one in, seemed like the clamps fit loose but whatever, I'll get new clamps at work. Well, it never made it to work.That cold September morning when I started her up, she caught fire under the hood instantly. In my panic, I ran into the house grabbed a fire extinguisher, ran back out, threw open the hood and put the fire out. What I didn't do was shut the key off so the heater fan remained running this whole time and all that fine extinguisher dust filled the cab".
The fire could have been worse, "Damage wise, just the wiring harness and distributor cap and a few plug wires were damaged. So spent the next little while replacing the damaged parts and cleaning out the cab. Thought I'd save some money and make my own wiring harness, I mean how hard could it be, a roll of wire is cheap. So build my own harness. It worked again. but some days felt like not all cylinders were firing. (I'm self taught in all this auto mechanic stuff as well, trial and error, and lots of error). Finally after talking to the right person, I'm informed that one wire is a resistor wire. so I bought a harness, and replaced it. just like that she was running good again, and still back firing".
Ryan was destined for more heartbreak on the road, "One day heading to work she started knocking, then maybe a mile more and bang bang bang bang bang, smoke everywhere. I blew a rod. Dad come with his truck and we were towing it to his place, I went around the corner quicker then he did, the tow rope slacked off and went under my front tire. Let me tell you, you stop in a hurry. kissed the windshield after my chin bounced off the steering wheel. At Dad's we pulled her apart to find #6 piston had come apart and cracked the cylinder wall".
Farmers are the world's best recyclers and Ryan's father was no exception, " Dad had a spare 283 sitting in one of his sheds so I took it apart, cleaned it up again couldn't afford to fix it properly. I used the best pistons, bearings, and rings between the two 283s and pieced one together, got it running, then tried to sell it. Can't afford it. I couldn't even give it away. so it sat at Dad's".
Patience is the cornerstone of old iron, "Finally I saved up enough cash, I was going to buy a crate 350 and install it. But in phoning around, one Edmonton shop gave me a hell of a price on a rebuilt 350, full warranty and everything. Yeah right. They used a lot of my old parts, because of this, there was now no warranty. I had issues with the truck, took it back twice. Both times they charged me to work on it, and neither time fixed the issues. I was mad, figured I got screwed learn from my mistakes. Pull it and re-build it yourself. (Still haven't done). I got lucky and came across a retired mechanic. He helped me look through the old girl, fuel hose was just a hose, it was collapsing on itself. The vacuum lines were too big, drawing in air around then. the distributor was sticking, a bolt was left out of the block and lots of blow by was happening. So we got all that fixed. I learned a lot from that fella".
That solved the reliability problem but winter was another factor in the leaky cab, "I got around to putting in an electric ignition later that winter and the truck was really running good. However, it was cold so that poor heater could not heat that cab faster then the cold air came in. So I started buying body panels and patches".
This is not a fuel-sipper as Ryan admitted, "Even though the truck ran good, every 180 kms I needed gas…60 litres. I ended up taking it in and getting a 3:73 rear end off a 2000 Chev 3/4 ton so now my fuel mileage was better. (I could do two days on a tank of gas, 308kms)."
The hole gets deeper with the old rides, "Now I'm into it, might as well finish it. I was stockpiling parts I needed PLUS I put some aggressive all seasons on for winter and learned they suck on ice. Hit the ditch once, was all over the place a couple of times so went out and bought a set of chains. I was leaving work one evening and I couldn't get over 20 mph, I was sideways and all over so pulled over, read the chains instructions, kept below 50 kph, that's 30 miles per hour and 30 is faster then 20, so I chained up. What a rough ride, but I tell you, I beat the 4×4's off the line".
Ryan showed more patience in the next stage, "Finally in the sale of my house I made some extra cash, one break I needed for extensive repair. I found a welder so I took him the truck and the body panels. He had it for a little over a month".
There's a personal touch in every project and the Chevy was no exception, "I had him keep the spare tire in the passenger side step. (not GM's location, but I like it there, out of the way and easy to get to), so he made a nice cut away in the rear fender. (who ever mounted it there used a hammer to mold the fender around the tire). He made the truck solid again. I'm still waiting on more body parts to come in and when they do, off to the body shop for the final touches and paint".
Everyone has a long-term game plan with an old ride but Ryan was forced to face reality, "Before the truck went out for all that weld repair, I had the bright idea to fix her up, buy a truck camper (out of the 60's) for it and tow my 1958 Olds 88 on the car hauler to shows.That trailer empty is a little too heavy for that truck, let alone with the car on it and a camper in the back so that ended that dream. But I wanted something to tow with it, So found myself a 1979 Boler 17-ft travel trailer."
The alternate plan came together fast, "When I got my truck back from the weld repairs, I put the hitch on, wired it all up, got the trailer lights and brakes working, then to try it out, we towed the trailer behind the '65 to Vernon BC. she held her own in the hills, averaged about 100km/hr. I did hit 127kms according to my GPS (downhill of course). She got a whole 8 mpg towing, but was impressive".
The game plan may have changed for the old Chevy but Ryan has an equally positive plan, "I am now in the works of planning a Classic Car & Camper Cruise to Chicken Alaska, Sometime in 2015".
"The old '65 towing the '79 will be the lead vehicle".
Jerry Sutherland