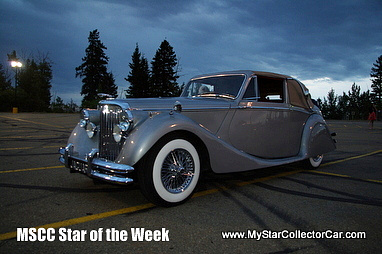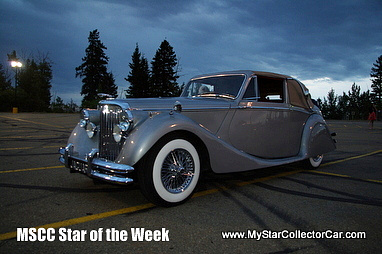 SEPTEMBER 8 STAR OF THE DAY: 1950 JAGUAR MARK V THREE POSITION DROPHEAD COUPE
Most Stars of the Day have a North American pedigree because most vehicles at North American cars shows are North American.
The law of averages tips heavily toward North America iron when a Star of the Week is chosen but that doesn't make them an automatic choice.
The key to picking a Star of the Week is generous use of gut reaction and that's what made this 1950 Jaguar Mark V the MSCC Star of the Week.
This car attracted a lot of attention at a show last week when it rolled in because it's a presence car. It's going to be featured in an upcoming MSCC piece because this Jag has a very unique back story that involves a legendary CIA agent who could have been a prototype for James Bond.
This classic would have been a Star of the Week without the international spy connection.
SEPTEMBER 7 MSCC STAR OF THE DAY: AMX-TWO- SEAT SLEEPER FROM AMERICAN MOTORS
The AMX was symbolic of how much American Motors punched above its fighting weight.
This little two-seater was almost 500 pounds lighter than the other two-seater in 1968…the Corvette.
The 390 gave the AMX some serious street credibility after it ambushed several members of the Big Three muscle car fraternity back in '68.
This MSCC Star of the Day AMX was on the auction block a few years ago and it represented a time and a place when AMC,the little car company that could, duked it out in the muscle car wars.
SEPTEMBER 6 MSCC STAR OF THE DAY: '73 TRAVCO-THE FACE OF THE RV DURING THE OIL EMBARGO
Historically,oil was relatively cheap in the early 70s so big RVs and big engines weren't a problem.
That changed in October 1973 when OAPEC flexed its muscles in a big way,cut supplies and boosted the price of a barrel by 70%.
The effect was immediate and profound in oil-driven nations so you couldn't give away a Hemi Cuda or 454 Chevelle by the end of '73.
Big RVs were also like toxic waste to buyers in late 1973 so they were one of the worst investments you could make 40 years ago.
History was kind to the 70s muscle cars because their value exploded but there's little doubt this '73 Travco will have a smaller lineup of would-be buyers in 2013.
Nevertheless, this MSCC Star of the Day was a very unique guest at a show last night.
It showcased what was big, comfortable and historically badly-timed in the early 70s.
SEPTEMBER 5 STAR OF THE DAY: AVANTI AND CROWN VICKY-EVEN THE NAMES WERE COOL
The fifties and sixties were not only filled with cool cars. They were filled with cool names for cars.
Take the '56 Ford Crown Victoria. Long before that name became synonymous with police forces, it was the highest standard for the Ford name.
The Crown Vicky was at the top of the heap so when you rolled up n Suburbia circa 1956 in one these flashy Fords, you knew you arrived in style.
So did your neighbors.
The Studebaker Avanti was another cool car and cool name.
These two cars were on the street last summer and they were MSCC Star of the Day cool.
SEPTEMBER 4 MSCC STAR OF THE DAY: '51 FORD-TAKING ADVANTAGE OF A CAMELOT-LIKE WARM NIGHT
There's no real secret to getting car guys out for a night run. Order good weather and they come out in big numbers.
Last night was one of those classic evenings where the temperature was perfect for running old iron because it wasn't blazing hot or brutally cold.
Richard Burton was once in a movie called Camelot and he summed it up in these lines, " By order, summer lingers through September in Camelot.The rain may never fall till after sundown. By eight, the morning fog must disappear".
This '51 Ford MSCC Star of the Day was a last of the season show at a local A&W and if things were like Camelot, that car show would still be running in December.
SEPTEMBER 3 STAR OF THE DAY: '74 CHALLENGER…PERFECT TIMING ON A TRAFFIC LIGHT
One of the advantages of an area with lots of old iron is obvious…you see a lot of old iron in traffic.
This '74 Challenger was on the road yesterday and it stood out like most yellow vintage Mopars do in traffic.
That's a good thing and a bad thing because cars like this attract a lot of attention so when a yellow Challey cuts it close on a traffic light most people see the car first and the traffic light second.
In this case, the MSCC Star of the Day was into the intersection before the light went as yellow as the car.
SEPTEMBER 2 MSCC STAR OF THE DAY: 1950 PLYMOUTH-REMEMBER WHEN THEY WERE SENSIBLE RIDES?
The Plymouth name was based on reliable, sensible transportation. They were the kind of unassuming car that your bookkeeper or local librarian drove because they were no-nonsense cars.
Plymouths weren't built for glamor-they were built for the long haul.
The Fury would change the game in 1956 when they introduced one of the original Mopar muscle cars but in 1950, Plymouths were still sensible rides.
They were basic six-banger, three on the tree, family rides.
This MSCC Star of the 1950 Plymouth was clearly on a different, less sensible path last September.
For past Stars of the Day, please follow this link.
Star of the Day page sponsored by Southside Dodge.