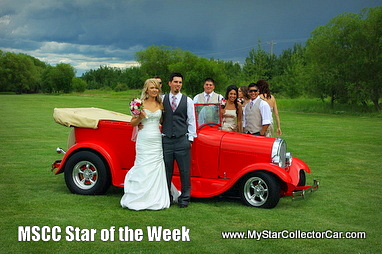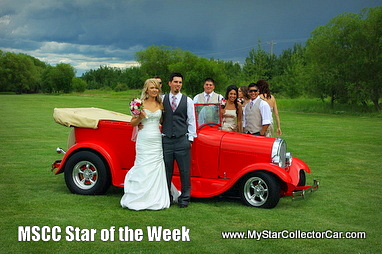 JULY 14 2013 STAR OF THE DAY: A WEDDING AND A CAR SHOW-HOW TO START A GOOD MARRIAGE
This wasn't the scheduled MSCC Star of the Week. The original Star of the Week was pretty cool but this one was cooler.
The picture was taken yesterday at a fairly big car show that emptied out just before some clouds rolled in and spoiled the party.
That didn't deter this bridal party because they showed up in a limo and found a cool ride for their wedding album.
There's a moral to this Star of the Week…any marriage that starts out with a focus on old iron is destined be a long and happy period of wedded bliss.
AUGUST 13 MSCC STAR OF THE DAY: A-BODY DODGE DART SWINGER THAT NEVER WAS
There are few people who would question the existence of the blue whale even though a large percentage of the world's population has never seen one.
Even fewer would question the existence of the Dodge Dart Swinger.
Lots of people/car guys would question the existence of this Dart Swinger with a bumblebee stripe because that little option was gone by the time this Dart hit the showroom.
Nevertheless this MSCC Star of the Day Dart had a stripe and that translates into automotive history rewritten.
MSCC STAR OF THE DAY: EARLY 50S CHEVY-NOT A BAD CHOICE FOR DOOR NUMBER TWO
Most people over a certain age remember the TV game show "Let's Make a Deal". If you're too young or for some reason you didn't discover television until 1997 it was basically a game show based solely on greed.
The host was a guy named Monty Hall and his job was to talk people out of great prizes by offering them another door that may or may not open to a better prize.
It was called door number two.
Chevys from the 1950s are just like Let's Make a Deal because most bowtie guys go for door number one-the 55-57 Chevy.
Very few go for door number two-the early 50s Chevy.
This MSCC Star of the Day shows how cool door number two can be if you play the game right.
JULY 11 STAR OF THE DAY: ' 70 AMC REBEL MACHINE-THE GOLDEN ERA OF MUSCLE
Most car guys look at the late 60s and early 70s as the Golden Era of muscle cars.
The Big Three were in a bloodbath for King of the Street so Six Pack Mopars were duking it out with W-30 Olds and Boss 429 Mustangs.
The goal was simple-put enough power under the hood to drive your spleen into oblivion when you punched the gas pedal.
American Motors saw an opportunity and thus they begat the 1970 Rebel Machine.
It wasn't the biggest and baddest in '70 but with 340 horses and off the chart cool factor the Machine was definitely in the muscle car game.
This Star of the Day Rebel Machine was at a show back in August 2012…red white and blue muscle.
JULY 10 STAR OF THE DAY: A RED '68 CHARGER-THE CURE FOR THE MID-WEEK BLUES
Wednesday is the pivotal point in any week because Friday is in sight but Monday isn't far enough back in the rear view mirror.
It's one of those "can go either way" days so anything that tips the scale in favor of a good Wednesday is an asset.
This Star of the Day red '68 Charger from the weekend is clearly an asset to any Wednesday.
JULY 9 STAR OF THE DAY: THE PRACTICAL SIDE OF A T-BUCKET
Obviously, a T-bucket isn't exactly the definition of a long distance touring car.
They're not built for a coast to coast run because they can be a little twitchy and squeezing into a T-bucket is the stuff of nightmares for the claustrophobic.
Nevertheless, T-buckets are historically and inherently cool rides.
There is simply no better experience than piloting one down a road beside an incredibly nice lake in a resort area.
That's a Star of the Day moment…
JULY 8 STAR OF THE DAY:TWO CADILLACS AND AN OPEN ROAD EQUALS STYLE THAT SPANS DECADES
Cadillac has been synonymous with class, luxury and style for decades.
The twenties and thirties were full of major luxury car competitors like Packard, Duesenberg, Auburn and Cord but by 1958 they were all gone.
Cadillac is still around.
The Cadillac name has always been associated with large and in charge cars-nowhere was that more evident than a week ago when these two Star of the Day Caddies were out on a tour.
One was from the 40s and one from the 60s but in both cases these Cadillacs oozed class …decades after they were new.
FOR PAST STARS OF THE DAY PLEASE FOLLOW THIS LINK.
Sponsored by Southside Dodge Chrysler Jeep & RV