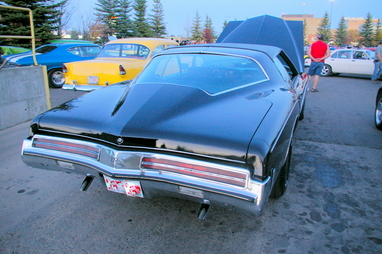 This 1973 Buick gained a 16-year-old kid a bunch of new 50-year-old buddies whether he wanted them or not.
The '73 Buick Boat-tail Riviera is a pretty rare car on its own.
'Add a 16-year-old owner who looks 12 and the story gets even more interesting.'
This particular car was fully optioned-out and owned by an elderly guy until Ethan bought it in 2008. This classic had only 86,000 original miles on it-the old guy lived a pretty localized life.
Ethan had never seen or even knew that something as wild as this Buick had ever been built. After all the kid was born in the 90s. Regardless this was a bad case of " 21st century kid sees wildly different car from the early 1970s and kid falls in love at first sight".
The problem was Ethan already had a car. A 2002 Ford Focus. That's a pretty typical ride for a kid and it in reality it made more sense.
It was gone in 2 days.
Right after that Ethan was the proud owner of the most uniquely- designed early 70s GM product ever built.
Ethan is so dedicated to this classic that he faced the summer of 2008 gas prices like a man-he kept the car in the face of logic and didn't whine when the big Riv ate up his whole paycheck in fuel bills. He bummed rides from his buddies on weekdays just so he could run this giant Buick on weekends.
That's commitment to the cause.
Ethan's biggest problem with the car?
Too many 50-something old guys instead of great-looking babes hanging around every time he parks it. But he also knows he's part of the fraternity now.
'You don't get that kind of respect with an '02 Ford Focus.'
Jerry Sutherland