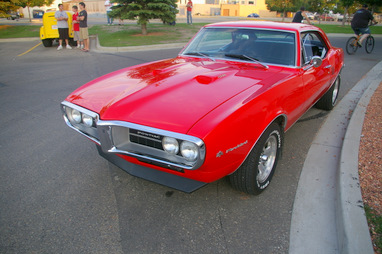 The 1967 Pontiac Firebird stood squarely in the shadow of its photogenic cousin, the Chevrolet Camaro.
But not in Rick Molson's world.
'Rick was a young impressionable kid when he and the Firebird were introduced in 1967.'
Rick was far too young to own or even drive the sporty new addition to the Pontiac family, but he knew that he would own one some day.
That day came about five years ago when Rick managed to acquire a Firebird in desperate need of some serious TLC. It had 57,000 original miles but it was definitely showing its age.
None of that mattered to Rick because he had finally acquired his dream car from the pony car era and it was a Firebird.
Rick was always attracted to the styling of the front and back end of the Firebird which he saw as 60s sports car styling at its finest. He was willing to punctuate that belief with a major investment into the car.
Three years later, the Firebird is ready to fly and it now has a major facelift and new metal from the roof and hood down.
'Patience, money and Comfort Collision made it happen for Rick and his Firebird so a dream relationship from so many years ago is now a reality.'
Jim Sutherland