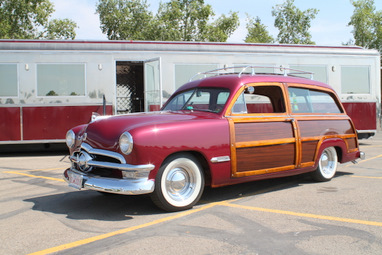 Wayne Russell has always been a station wagon kind of guy.
'Wayne owned a few Woody wagons in the early 70's when they were available at bargain prices and, more importantly, they were available.'

Those days of plentiful and affordable Woody wagons are long behind us, but Wayne always carried a torch for these unusual rides.
Now he is the proud owner of a 1950 Ford station wagon with a unique Great White North heritage. Wayne's wagon is from the Yukon where winter lasts longer than the extended version of Inna Gadda Da Vida by a legendary 60's burn-out band called Iron Butterfly.
Yukon winters that terrify brass monkeys are no friend to salt on roads. In fact, salt does not work in deep sub-zero temperatures, so Wayne's wagon is a salt and rust free survivor of those long arctic winters.
It really is a dry cold in the Yukon so this freeze-dried Woody wagon has worn its years very well. Incidentally, they actually do get a summer season in the Yukon where the big light bulb in the sky never goes out, but you blink and it's over.
This Ford Woody wagon has taken a well deserved retirement to Wayne's much more southerly address where happiness is a warm garage for this classic survivor from the land of the Klondike. Wayne's hi-tech sound system goes back to the 50s-like everything else so…
he has a portable phonograph mounted proudly under the dash.
Now Wayne and his wagon are constant warm weather companions on the summer car show circuit where the land of ice and snow are a distant memory for the classic old Ford .
"PS-Wayne and the classic Woody had a incident on the first weekend in August.Wayne was racing a storm home from a car show in his home town and a genius on a motorcycle ran in to his legendary old Ford. Fortunately there were no injuries (Wayne kept his emotions in check)  but the Woody sustained 4500 bucks worth of damage.The car was repaired and happily enough, it looks great."
Jim Sutherland