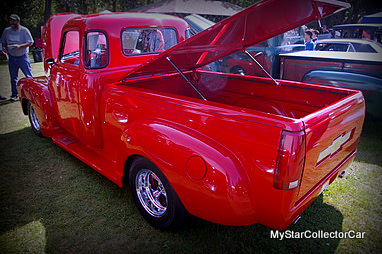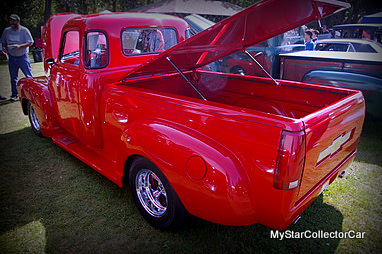 Noel Bower is a handy guy with the tools.
'In fact, he may even be a plastic surgeon for old collector vehicles because he took a senior citizen 1948 Chevrolet ½ ton and made it young and attractive again.'
Actually it is better than new because Noel sculpted in a brand new look for this Chevy truck when he added a 1998 Chevrolet fleet-side box to the old dog.
The tricky part was Noel's desire to make the lines blend with 40 years of age difference between the cab and the box. Noel had seen other custom trucks done with this combination and saw the contour and flow problems between the two components.
It was a little like a 40-year age difference when an old guy dates a young babe in that it really doesn't look right.
Somehow Noel had to find the right custom fit to make his 1948 truck cab look right with the 1998 box addition and got people talking about how good they looked together. This kind of custom match-up required a winter's worth of very strong welding in which Noel narrowed the box to fit the width of the cab and welded the fenders to follow the contour from the front clip through the cab better than the original look.
The result was a stunning custom look that played to the strengths of 1948 and 1998 Chevrolet truck design. Noel did the lion's share of the work because, as he said, "it was the only way to afford it". Fortunately Noel has enough talent to invest sweat equity into the project and gave it a professional quality facelift on a budget.
The project took three and a half well-spent years for Noel to complete the work and now he and his photogenic ½ ton get to spend some quality time together during the summer.
The new heart for the old Chevy is a 1986 350 that delivers all the power Noel needs to travel on the summer car show circuit and he added custom Glide Engineering seats to make sure he also get there in comfort to go with all that new style.
Now he has the best of both worlds with his 1948 Chevrolet ½ ton that has a whole new outlook on life.
Jim Sutherland
CLICK HERE to Like us on Facebook
CLICK HERE to Follow us on Twitter
CLICK HERE to Follow us on Pinterest
*Re-post if you like this MSCC article…thanks.