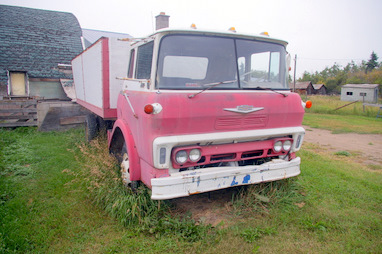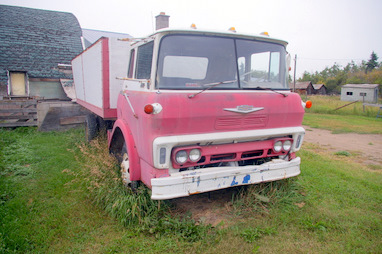 These trucks are not vehicles that you'll see in everyday 21st century life.
This era of Chevy cab over was pretty rare even in 1963, so the odds are that survivors such as this one are very slim–much slimmer than its svelte, more popular cousin-the '63 Sting Ray..
This truck started life like virtually every commercial vehicle on the face of the earth–working without a break.
In this case, the Viking was part of a fleet of refrigerator trucks for a milk company. It did that job remarkably well until it was sold to a guy who liked hunting-this truck made huge sense for hanging meat on a hook after a hunt.
Organized crime has known that for decades.
It served as a rolling meat locker for the Elmer "wabbit season" Fudd guys until Grant Puzey bought it for his farm-minus the refrigerator unit. Grant had plans for the old Chevy's new career as a grain hauler. Grant added a box and hydraulic system to dump the grain into his granary after a load from a combine in the field.

Grant replaced the original engine with a new one and used the truck for ten years as a heavily worked grain hauler during harvest season. The 5-speed split axle worked well with the new heart in the C-60.  The work was short but intense so that's why this nearly 50-year-old truck has only 78,000 miles on the clock.
Grant is semi-retired from farming, and he still marvels at the load this old Viking can handle but he shouldn't be surprised-this brute goes back to the days of glass milk bottles.
'Bushels of grain would seem like a pretty light load to this vintage cab over Chevy 3-ton. That's probably why it's still around.'
Jerry Sutherland