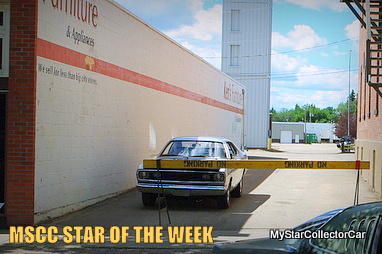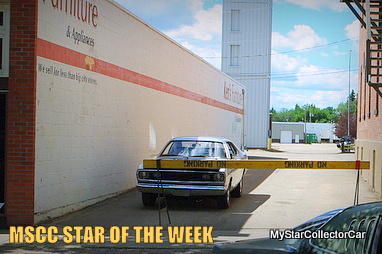 MSCC JULY 19 STAR OF THE WEEK: A DUSTER ON THE OUTSIDE LOOKING IN AT A GREAT CAR NIGHTCLUB
Car shows are like a really popular nightclub.
You get inside a popular and you'll see a lot of flashy people.
Get inside a popular car show and you'll see a lot of flashy cars.
If you don't get to the club in time you're looking at lineup with the very real possibility you stay behind a barricade and you won't get in.
This MSCC Star of the Week Duster was obviously late for the car show yesterday so it was on the outside looking in at a great car nightclub.
MSCC JULY 18 STAR OF THE DAY: CORVETTE SUMMER—THE REAL LIFE VERSION
Corvette Summer was an instantly forgettable B-movie starring the guy who played Luke Skywalker in Star Wars.
The Vette itself (the real star of the show) was a tricked out in a way that could best be described as ultra-70s custom.
There was little debate over the pros and cons of Corvette Summer because it was the kind of movie that disappeared overnight but any movie with a summer theme and a custom Vette has some redeeming qualities.
This MSCC Star of the Day Vette was on the road last Saturday in a real life version of Corvette Summer.
MSCC JULY 17 STAR OF THE DAY: 1925 DODGE/GRAHAM –A SPEAKEASY TAXI
Prohibition took organized crime from the minors to the major leagues for crime.
Money flowed as fast as illegal hooch and guys like Al Capone became the 1920s equivalent of Bill Gates.
The police used to raid speakeasies and haul away the patrons so they needed large, reliable, well-reinforced trucks to transport the party animals busted in these illegal clubs.
This MSCC Star of the Day 1925 Dodge (actually built by Graham Brothers) is what you would have ridden in if you took a speakeasy taxi.
MSCC JULY 16 STAR OF THE DAY: 1955 WILLYS AERO BERMUDA—SO RARE IT'S A ROCK STAR
Willys was in serious financial whitewater by 1955.
You could call them the mid-1950s version of Greece because they'd become part of Kaiser and the only thing that survived was the Jeep.
Willys Aeros would live on in Brazil for several more years thanks to a tooling exchange but 1955 was it for the domestic market.
That makes this MSCC Star of the Day Willys Aero Bermuda so rare it's a rock star.
.
MSCC JULY 15 STAR OF THE DAY: IS THIS THE KIND OF THING YOU COULD SLIDE BY A BRIDE?
Here's a disclaimer—not all women are enemies of old cars and trucks but significant numbers of them don't see the inner beauty in a '52 Packard.
They win the debate by using the same trump card every time.
The "how is this even remotely practical?" trump card.
This Star of the Day big old rig is beside a highway and it's for sale so the question of the day is simple—what kind of guy could actually slide this monster by his wife?
MSCC JULY 14 STAR OF THE DAY: '61 BEL AIR–NOT A BIG STEP DOWN FROM AN IMPALA
The Holy Grail model of the 60s Chevy is the Impala.
Impalas were the blue chip stock in the Chevrolet lineup from Day 1 in 1958.
Lower-end Chevys became door #2 overnight.
This MSCC Star of the Day '61 Bel Air was spotted yesterday and it was clear a lower-end Bel Air wasn't a big step down from an Impala because this ride is outstanding.
MSCC JULY 13 STAR OF THE DAY: CHALLENGER T/A—ANOTHER BONUS OF SUMMER
Summer doesn't need a press agent because it has already won the battle of the seasons in a big way.
You get longer days, more sunshine, warmer weather and better attitudes in summer.
You also get a lot more classic iron on the streets.
This MSCC Star of the Day Challenger T/A on the street Saturday is yet another bonus of summer.
For past MSCC Stars of the Day please follow this link.
CLICK HERE to Like us on Facebook
CLICK HERE to Follow us on Twitter
CLICK HERE to Follow us on Pinterest
Please re-post this if you like this article.
Star of the Day page sponsored by Southside Dodge