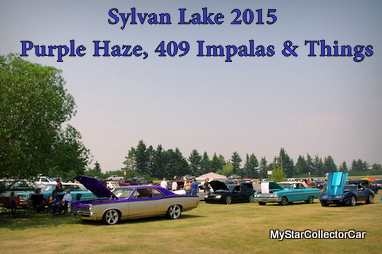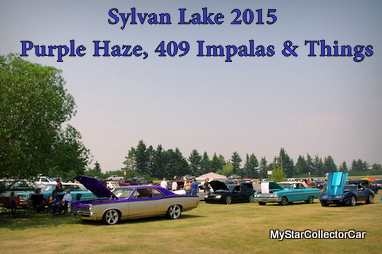 Sylvan Lake is a famous lakeside resort community in Central Alberta.
It has enormous appeal during the summer months when tens of thousands of tourists invade the town.
Sylvan has grown to over 13,000 permanent year round residents and caters heavily to the summer tourist flood with a number of local attractions- but mostly the lake itself during the hot summer days.
One of the attractions for MSCC is the annual Sylvan Lake car show because the local club has one of the best organized shows of the season. The show moved out to a local golf course a few years ago and found an ideal venue for their event: plenty of room and all of it takes place on a giant lawn.
This year the warm and dry summer meant the lawn was a little browner than usual, but that was a small price to pay for perfect summer day with a slight cooling effect from a forest fire smoke haze.
Western Canada has received less than average rain this summer and the forest fires have reached alarming proportions.
The net effect is a campfire aroma in places like Sylvan Lake which is a long way from the forest fire areas.
There was another kind of haze at the Sylvan Lake show and this Purple Haze had little to do with the famous Hendrix song with its thinly veiled allusions to the 60s drug culture. Instead its owner referred to his 1954 Chevy custom truck's wild purple and turquoise paint job.
Hendrix never took a trip in anything this cool and we were able to corner this rainbow ride's original builder who was up from Spokane, Washington and visiting its current owner.
How these two car guys became buddies will be part of a future MSCC story about this very cool truck's history.
We have a hard and fast rule at MyStarCollectorCar: when you see a 1964 Chevy Impala SS 409 twin four barrel car: track down the owner and find out if the car is the real deal because these cars are as rare as Bigfoot arm wrestling competitions.
The owner had a numbers-matching car that (at minimum) is a rare car in the finest tradition of the classic Beach Boys 409 song and the mid-60s muscle car philosophy from the General.
A car on the completely opposite end of the spectrum from a muscled-out Chevy also caught our attention. The car was a 1973 Volkswagen Thing and it was one of those classic beauty in the eye of the beholder kind of rides.
The Thing was a VW idea initially designed for military use as a Jeep-like vehicle, but its unconventional looks were an immediate hit with an offbeat segment of the automotive community who leaned heavily toward unusual vehicles.
VW Things were either cute as a Bug's ear or they lived up to their name in a "What is that thing?" kind of way. Middle ground was hard to find for this little war machine designed for NATO military use and civilian debates.
We will have this 1973 Thing's full story in a future MSCC piece.
Our final point about this show was their very cool trophies because they were stylish pistons set on top of a classy base.
The trophies definitely caught the attention of everyone at this show and were another reason why the Sylvan Lake car show is a popular event.
Jim Sutherland
CLICK HERE to Like us on Facebook
CLICK HERE to Follow us on Twitter
CLICK HERE to Follow us on Pinterest
Please re-post this if you like this article.