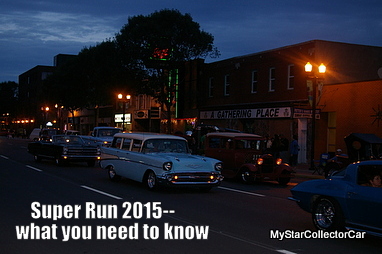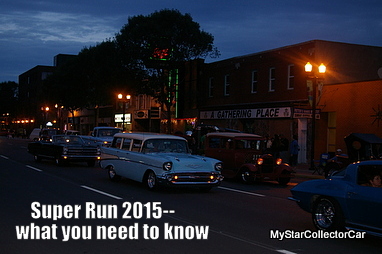 This year the Super Run is in Red Deer, Alberta Canada and for those who don't know what it is—you can sum it up in three words, "incredible car event".
Most car shows are built around the "one show on one day" blueprint but Super Run is different because it's all week long and the Rock'n Red Deer organizers fill every day with some seriously car guy friendly events.
Gerry Paquette has been involved with the Red Deer Super Run for many years so he was the go-to guy for some questions about this year's edition of Rock'n Red Deer.
What is the history of SuperRun?
"Alberta SuperRun was conceived in 96 by the following Donor Clubs to have a show once every 3 years on the August long weekend, running in conjunction with the 3 Prairie Provinces – Manitoba, Saskatchewan & Alberta.
The first Alberta one was 1997 and in 2000 it was still Alberta SuperRun, in 2003 Alberta broke away and it became Alberta's SuperRun Association's Rock'n Red Deer for 2003, 2006, 2009, 2012 and 2015.
Kipp Scott has been the Major Presenting Sponsor since 2003 and will be again in 2015, they were also heavily involved late in 2000.
Wild Rose Rod and Custom 18-Jan 96, Wetaskiwin Shadows 18-Jan-96, Henry's Haulers 18-Jan-96, Nifty Fifty's Ford Club of Calgary 18-Jan-96, Mainstreet Cruisers 18-Jan-96, Touring Tin 18-Jan-96, The Dropsicles 2000, Northern Alberta Corvette Club 18-Jan-96, Edmonton Street Rod Association 18-Jan-96, Foothills Street Rod Association 18-Jan-96, The Cruisers Club of Red Deer 18-Jan-96, Ponoka Piston Poppers 18-Jan-96, Fifty 567 Club 18-Jan-96
What are the details about the show (various events and trips etc.)?
The 1997 – 2000 were 3 day events with the Downtown Cruise Friday Night, public viewing at the Westerner Sat & Sun, 2003 – 2006 – 2009 became a 4 day with the Thursday evening being an A & W meet and greet night added in. The 2012 run (spearheaded by Gene Holben and the committee) offered a 7 day event because of so many people coming early.
The Rock'n Red Deer Show for early bird registrants and were taken out on fields trips throughout Central Alberta in order to showcase Central Alberta and Red Deer for the early arriving participants".
How many can register?
"We have room for 850 registered vehicles, we base that on 2 people per vehicle which equals to 1700, the maximum the Westerner can feed at the banquet.
Speaking of registration, do you still have room for entries?
"Most definitely, the best way is "Online" to be honest it makes it easier for the registration person.
They will be cut off July 24th at midnight, and as usual there will be some provisions for walk up throughout the week, Mon thru Friday".
What charities do you support with Rockn' Red Deer?
The first years 97-2000 was Red Deer Food Bank and STARS, 2003 was STARS with non-perishable food and donations accepted for the Food Bank but since 2006 it has been only STARS.
How would you sum up Red Deer's Super Run as an event for car guys?
"It's the Ultimate Car Show for Car Guys not Guys with Cars.
This year we have tried to stick with our theme of "Celebrating Cars Music and Culture of the 50's 60's and 70's", people refer it as "Oh Yes That's the Big One"."
For more information about Super Run 2015 please follow this link.
Jerry Sutherland
CLICK HERE to Like us on Facebook
CLICK HERE to Follow us on Twitter
CLICK HERE to Follow us on Pinterest
Please re-post this if you like this article.