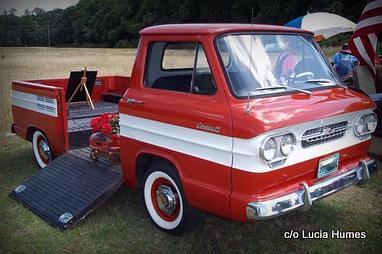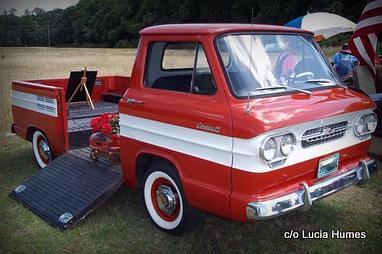 Corvair Rampsides are extremely rare vehicles for a pretty basic reason.
They didn't build many of them.
Those that survive to this day are extremely popular at car shows so the owners have to bring their best PR to the game.
Lucia Humes is the proud owner of Roamin'—a 1961 Rampside. She was obliging enough to explain how she came to own this classic Chevy truck: "My first car was a 1964 Corvair Monza that I bought used in 1966. You never forget your first car as it means freedom. You can tell your parents you are going to Youth Fellowship when you are really drag racing up and down Charles St. I had a 67 Monza after that. Ever since I first saw a Rampside I wanted one".
Roamin' is a relatively recent purchase: "I have owned my 61 Rampside since January 2014. I bought it from John and Teresa Miller (JTVairs). We had been Facebook friends and I met them at the 2013 Kalamazoo National Convention. I had driven my 1964 Corvair Monza (purchased from my neighbor Bobby Hopkins in Oct. 2011) there from Easton Maryland. When John posted that the Rampside was for sale in January 2014 I immediately asked him the price and told him I wanted it and the check was in the mail! It was my birthday and so I bought myself a present! John and Teresa are wonderful to deal with and sent detailed close ups of every inch. I love his (Roamin's) patina!"
The process wasn't quick: "It took a few months to receive it as that was the winter when huge blizzards came across from Iowa to MD right along the route Roamin' would travel. By the time he arrived I had it insured, found and restored vintage plates and it registered so I was all ready to go!"
There were a few mechanical issues: "After I got it I did have to replace the transmission rod and plate due to an unforeseen failure (They work perfectly until they don't) and while the transmission was out I had Tom Mullins of Mullins and Sons put a new clutch in so I wouldn't have to in the future."
Lucia is a huge fan of the road experience in her Rampside: "Roamin' is a 4-speed and a joy to drive! He drives just like the truck that he is! I love the huge H shift pattern, it takes my whole arm length! Great Fun!"
This is a 52 week of the year opportunity: "I drive both my Corvairs year round as our weather on the Eastern Shore of MD is generally mild in winter. To me the whole fun of owning them is driving them."
Most old rides come with built-in adventures: "I drove Roamin' to Detroit Michigan last August to Woodward Dream Cruise. He made the trip beautifully but developed a bag of marbles sound that turned out to be the fly wheel rivets working their way loose . Luckily with DACC Homecoming, Mike McKeel ( The Corvair Wizard) was in the area and was able to fix it with parts from the swap area and flea market. Roamin' has a new in crate 69 Corvair engine so a Harmonic Balancer and correct accouterments were installed and I drove him home ( 12 hours straight ) with no problems."
Rampsides are like a beacon for people on the road: "I get a lot of attention when I drive the Rampie. Most people don't know what it is but are blown away when they see the Ramp! I always display an information board I made from sales brochures that has information about the truck and spec drawings. My favorite is when someone comes up who used to drive one or had one in their business. Just last Saturday stopping for gas after a show, a man came up to me and said "You made my day!" He had one and drove it in his company."
Lucia is very confident in her old truck: "Roamin' has never stranded me on the road. He is a perfect gentleman. If he needs anything he waits until we get there!"
There's another bonus with a rare vehicle: "Roamin' has won 10 trophies some at judged and some at participant judging. These are general car shows as there are not too many all Corvair shows near me."
She added one more thought about the future of her Rampside.
"And yes I am going to keep him and Ralphie my '64. I will pass them along to my 3 sons."
Jerry Sutherland
CLICK HERE to Like us on Facebook
CLICK HERE to Follow us on Twitter
CLICK HERE to Follow us on Pinterest
Please re-post this if you like this article.