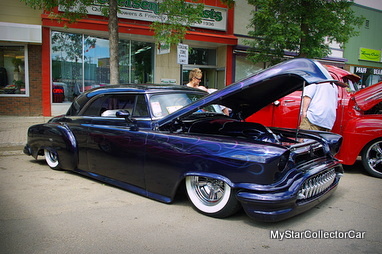 Gerard Blommaert covered the topic of salvation very well in his own words; "I like to create."
We saw a great example of his talents when we spotted his custom 1950 Pontiac Chieftain at a summer show.
Gerard's ride is old school cool and, even better, he put it together on a reasonable budget-also an old school hot-rodder approach to builds.
Gerard started his project after he spotted the Pontiac at a wrecker's yard in 1992. The Poncho had already been cannibalized by the time Gerard found it and it was missing many parts.
The old Chieftain was close to a date with the crusher but Gerard had a different plan for the old warrior.
Gerard knew he would not be able to restore the car back to its original form, but he likes to blaze his own trail in life and he put his own unique stamp on the car.
Gerard wanted to improve its performance and ride, so he bought a 1980 Olds to use its frame under the car. He actually bought three cars to use as parts donors and kept his investment at 200 dollars per car.
The '80 Olds frame needed to be stretched a foot to accommodate the Chieftain body and the Poncho's floor was stretched 7 inches to make a perfect fit. The old Pontiac body was also channeled to fit on the new frame.
Gerard was able to use a 350 Olds engine from one of the donors and eventually his 600 dollar investment in three salvage cars paid off handsomely for Gerard. His stylish front seats were donated by a 1980 Cadillac Eldorado and add serious comfort to his trips in the Chieftain.
Most old school customizers would applaud Gerard because he has incorporated the best features of other vehicles at a reasonable price. The front bumper came off a 1956 Olds and was narrowed 5 inches to fit the Chieftain, while the rear bumper is pure '55 Pontiac.
The roof line was chopped 2 inches because Gerard wanted a one piece windshield and he could fit a 1953 Chevy windshield with the chop. He has added an air ride into the mix and Gerard echoed the sentiments of many car guys when he said; "I'm still working on it."
However, Gerard has driven his custom Poncho thousands of miles because he believes you build them to drive them. He and his wife Laurel travel with the Pontiac to shows all over western North America and it will never ride on a trailer down the road.
Gerard is a cancer survivor and he appreciates the fact he can enjoy roads trips with Laurel in the Pontiac. He told us he "doesn't pansy it and it is a nice highway car." Gerard gave a somewhat qualified answer when asked whether he drives it at a good clip on the road; "Are the police watching?"
He did say the car is comfortable at 70-75 mph (110-125 km/h) on the highway and that speed will not draw attention from law enforcement on most major freeways.
The final word on this unique custom ride has to go to Gerard, the Pontiac's very entertaining owner; "Anything like this is an individualistic thing."
The basic philosophy of a true old school custom guy.
Jim Sutherland
CLICK HERE to Like us on Facebook
CLICK HERE to Follow us on Twitter
CLICK HERE to Follow us on Pinterest