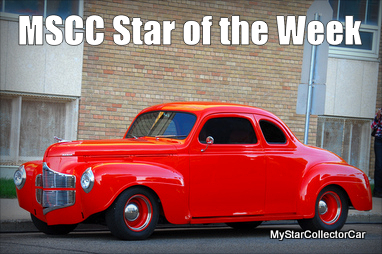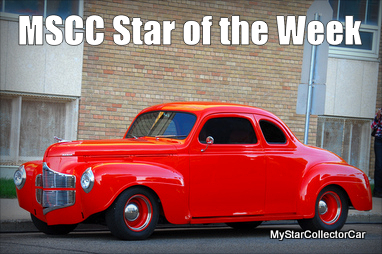 MSCC NOVEMBER 2 STAR OF THE WEEK:'40 DODGE—THE OTHER HOT ROD FROM 1940
The 1940 Ford is the default position for pre-war hot rodders for many reasons.
They built a lot of them and a fair number of '40 Fords came with factory flathead V-8s.
'40 Fords also had an intangible cool factor that attracted car guys like moths to a light.
That doesn't mean '40 Fords had a monopoly on style.
Exhibit A—this MSCC Star of the Week '40 Dodge at a 2014 show.
This was a tough-looking, understated rod…everything you'd expect from the other 1940 hot rod.
MSCC NOVEMBER 1 STAR OF THE DAY: '77 PONTIAC LEMANS GT— FROM THE COOL CAR NON-COOL DISCO ERA FILES
Let's be brutally honest – the late 1970s disco era wasn't the high water mark for music or cars.
Music had deteriorated to a point where the soundtrack from Saturday Night Fever was the edgiest stuff you heard on AM radio.
Cars were definitely cooler than the Saturday Night Fever soundtrack but draconian smog laws and gas shortages choked the heart out of them before they even left the factory.
Nevertheless there were some exceptional cars in the disco era like this 1977 Pontiac LeMans GT on the street two days ago.
Saturday Night Fever never had this much cool factor.
MSCC OCTOBER 31 STAR OF THE DAY: IT'S HALLOWEEN—DID YOU EXPECT HERBIE THE LOVE BUG?
This is Halloween so it's a full bore assault from ghouls, zombies, witches…pretty much anything that scares the liver out of kids.
Halloween is a time when it's okay to look over your shoulder because tonight that werewolf behind you may be gaining ground.
There is something very unique about Halloween because it's the only time you can dress up like you're going to a pagan sacrifice, knock on doors and get people to hand you candy.
That's why this MSCC Star of the Day is a group of hearses instead of Herbie the Love Bug.
MSCC OCTOBER 30 STAR OF THE DAY: 1955 STUDEBAKER PRESIDENT – HIGH END SOUTH BEND STYLE
Studebaker was the pride of South Bend, Indiana for decades and in that time they built some extraordinary vehicles.
They built everything from high-end cars to functional trucks over their storied history.
This MSCC Star of the Day '55 Studebaker President was at a 2009 show where it represented the upper end of the mid-50s lineup.
It was high end South Park, Indiana style at its best.
OCTOBER 29 MSCC STAR OF THE DAY: '61 IMPALA–BUBBLE TOP COOL SET THE STANDARD
Chevy broke away from the pack in a big way with the 1961 Impala.
The two-door hardtops was affectionally known as the bubble top thanks to the large greenhouse and a ribbon thin C-pillar.
The roof line didn't help you out much in a rollover but it sure looked cool.
This MSCC Star of the Day '61 Impala was at a show back in 2013.
OCTOBER 28 MSCC STAR OF THE DAY: '64 FORD GALAXIE XL 500–50 YEARS OF COOL
Ford definitely had a better idea in 1963 when they added a fastback roof to the Galaxie line and continued the look for yeard
They wanted an edge on the NASCAR circuit with aerodynamics and the sloped roof gave them an advantage on the track.
Buyers were also winner because this iconic roof changed the game in 1963.
This MSCC Star of the Day '64 Ford Galaxie XL 500 fastback was at a show back in 2012…50 years later this car still oozes cool.
OCTOBER 27 MSCC STAR OF THE DAY: '69 AMX — PUNCHING WAY ABOVE YOUR WEIGHT
American Moors was definitely the little guy in the boxing ring but they never let that slow them down.
AMC went toe to toe with the Bog Three in the market and won quite a few battles.
They didn't have a two-seater to compete with the Corvette (nobody did) so they shortened a Javelin, lost two seats and added a 390 cubic inch motor.
The rest was history because these little cars were an ambush waiting to happen in an era when muscle cars were insanely powerful.
This MSCC Star of the Day '69 AMX was at a show last summer.
For past MSCC Stars of the Day please follow this link.
CLICK HERE to Like us on Facebook
CLICK HERE to Follow us on Twitter
CLICK HERE to Follow us on Pinterest
Star of the Day page sponsored by Southside Dodge