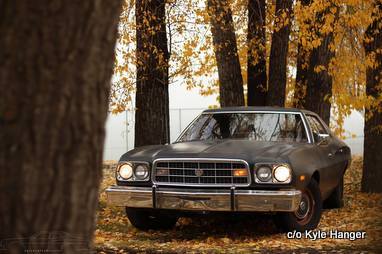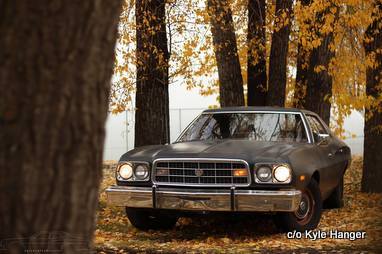 The biggest sins four-door sedans ever committed were found in the two extra doors.
There's no gray area in this arena because car guys either love or hate more-door cars.
Fortunately, Kyle Hanger is a huge fan of unloved four-door sedans.
Kyle's quest began, innocently enough as a search for a winter driver. They're called beaters for a reason because the owners don't care about the car so they expose them to a winter beating on icy, salty roads.
Kyle started with that in mind but then this '73 Torino 4-door sedan turned up in a search: "I was looking for a daily driver and I picked it up for 600 dollars. The owner was going to fix it up then she decided she was going to scrap it but I like vintage stuff so anything old really works for me".
Normally that's the beginning, middle and end of the winter beater story but this old Torino was something more to Kyle so he started on the rehab for this unloved old Ford: "It was originally gold so I replaced the quarter, door and fender. I bought a parts car, a '75 Gran Torino that gave up an interior and did some work on the suspension and brakes".
Kyle wanted to take his Torino to another level but reality set in when he took it to a few shops for estimates on a paint job: "The first shop wanted 4000 and the next one wanted 3000". Those numbers convinced him to leave it in primer gray for the foreseeable future but he does have solid future plans his '73 Torino.
Kyle bought the car for practical reasons but that doesn't automatically eliminate the fun factor with his 41-year-old car as he explained: "It's really fun in winter because it responds well and that 302 is pretty good on gas. It rides really nice and I never plugged it in all winter and there was only one day when it didn't start".
That's all you can ask in 2014 from a car built during the waning days of the Nixon administration.
This Torino is currently in mid-project/daily driver phase but Kyle has a well-defined game plan for his old ride: "There's no trim on it now and it looks more like a rat rod right now but I want to put that back on and paint it again and add things like dog dish hub caps and take it back to stock looking. I prefer original to modified cars".
Kyle's winter driver has added another dimension to his world because old cars inspire nostalgia and he's heard a number of memory lane stories: "I do get a lot of stories from people when they see this car because it reminds them of their past. I get a lot of offers to buy it too for a lot more than I paid for it but I wouldn't sell it".
His reasons are honorable and understandable because every true car guy bonds with their ride and he explained it this way: "I went through high school in it so I have to keep it".
How many car guys regret not having that kind of foresight?
Jerry Sutherland
CLICK HERE to Like us on Facebook
CLICK HERE to Follow us on Twitter
CLICK HERE to Follow us on Pinterest