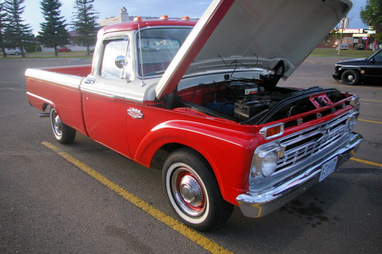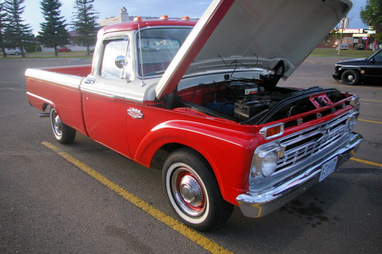 In 1966 the pickup truck wars were alive and well and Ford was in the middle of the battle.
Trucks were primarily purchased for work in 1966, unlike today when a truck doubles as a family limo in the everyday world.
'Even then, you had upscale models and in '66 the top end Ford carried a Ranger interior package as an option-Dennis always liked this era of F-150 and when he found this low mileage example, the sale was done in a heartbeat.'
Dennis likes the fact that this is a very rare truck with options that were rarely picked in 1966. Things like a 352 V8, automatic transmission, bucket seats, carpet and interior options just weren't ticked off on the options list at your local Ford dealer by prospective buyers.
Many trucks even came without AM radios in 1966-the peak of Beatlemania.
But these upgrades were available in the 60s and, as each decade came and went, trucks became a much more comfortable vehicle to drive on and off the job. This truck is on the cutting edge of that philosophy but it's a fairly solid bet that this truck wasn't ordered by a farmer. You just didn't have carpet in working truck-even now it's rare on a lower end model.
Dennis was lucky enough to find this 52,000-mile Ford and he upgraded the detailing to match the low numbers on the odometer. He's having a great time showing his truck to a public that probably hasn't seen many examples of an upper-end Ford truck from the 60s.
Basically this truck is a museum piece that marks the beginning of the luxury era in pickup trucks. This Ford spawned the phenomena that we see in 2009 where trucks are much more comfortable than car were less than 20 years ago.
Dennis knows that this 43-year-old Ford can't match the heated leather seats, air-conditioning and all coil ride of today's trucks but in 1966 ,pickups didn't come with many more options.
Jim Sutherland