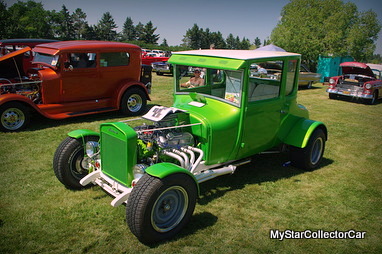 There's a term called old school and it's used extensively in the car hobby.
Basically, 'old school' in car world means you do things like they did 60 years ago.
Greg Diachara is a firm believer in old school so a '27 Model T project made a lot of sense.
Greg explained how this project started: "This was a field car and it had 73 bullet holes in it. The nickname for it is 'piece of junk', it's been called that for a long time". The name may not be unique to most car projects but in this case it's a term of affection.
There was one clear theme throughout this '27 Ford and that was the link to its Blue Oval roots:
"This is a stock 302 out of a '79 Thunderbird with an 8″ rear end and a C4 transmission out of a '73 Mustang and the rims are Ford but custom 15″ wide. It's not chopped-I wanted to keep the link to Henry Ford intact".
Greg is a licensed mechanic so he wasn't intimidated by the technical side of this vintage hot rod build: "It's got coil overs and 4-link in the back and a Lucky 7 front end. The only non-Ford part is the Chevy steering column because GM builds the nicest tilt steering on the market".
There was another departure from the Blue Oval in the exterior side of the '27 Model T rod: "It's called Greg's Shock Green and it's actually in their paint color book now. Endura put it in their catalog and this color is actually called 2004 Viper Snakeskin Green. There's only one clear coat so it will be re-sand and redo it".
Greg's technical skill paid off with this classic rod when it came to the bureaucratic side of the equation: "Everything on this car has a purpose so it was an easy safety-piece of cake. The day after it safetied I had a guy come up to me and ask me to sell it".
Greg had one goal for this '27 T and he defined the terms in a simple statement: "This is shakedown summer (2014) so it's a time to get all thebugs out. We're going to drive it to a lot of shows this summer –not on a trailer. We already have rock chips on it".
Most car guys analyze their rides on a constant basis but the initial miles are the most closely scrutinized: "It's a hot rod so the only thing I want to hear is the engine but I haven't opened up the caps yet because I'm afraid of getting a ticket. It's actually really comfortable to ride in so I'm not beat up at all after a trip".
Greg had a simple game plan and he executed it well because this '27 T is a people magnet at every car show. It's an old school ride done with an old school vision and built by a guy with old school talent.
This project took two and a half years and it turned Greg's wife into a self-described "garage widow" but the results were worth the sacrifice.
Old school is alive and well in this classic rod.
Jerry Sutherland
CLICK HERE to Like us on Facebook
CLICK HERE to Follow us on Twitter
CLICK HERE to Follow us on Pinterest
Please re-post this if you like this article.