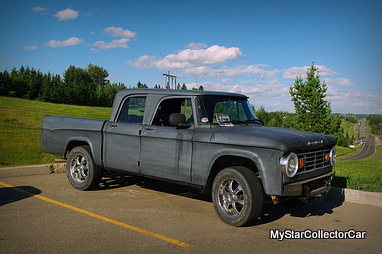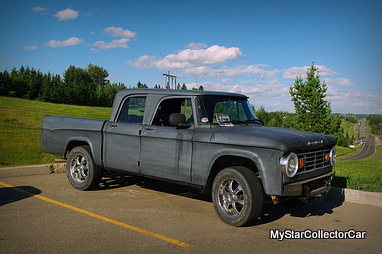 Trucks have become technological wonders in 2015.
They are 6000-pound monsters that can pull massive loads at high speeds and still nail down better gas mileage than a '68 Polara wagon.
Zacc Bast wanted to blend 21st century technology with 20th century style on a limited budget so he started with a '68 Dodge truck.
This old truck had the perfect asking price as Zacc explained: "It was sitting in a farmer's field for twenty five years and it had about 500 pounds of mice crap. It had a Ford Stepside box on it and the guy gave me the whole truck".
Projects are never 100% cost-free, but Zacc did the next best thing and found a reasonable donor truck: "It was a 2000 Dakota write-off and it had a 4.7 engine". That was the next piece in this budget resto-mod build.
This '68 Dodge wasn't a perfect fit for the Dakota power train but Zacc solved the problem in the most direct way possible. He simply plunked the old Dodge body on the new Dodge frame.
That sounds like a fairly straightforward concept, but veteran builders know there is no such thing as straightforward in a retrofit.
Zacc addressed this hurdle by timing his project well: "It was a summer time project and I dropped the truck on the frame and there were a lot of hours-so many that I didn't keep track but it's probably a few hundred". Given the complexity of this project, that seems like a reasonable guess.
There were a few details that Zacc wanted to address in his '68 Dodge/Dakota project: "I tried to drop it down as low as I could and the box was shortened by 16″ because I couldn't find a new box and I needed a box to finish the project. There was a little re-wiring for the headlights too and I found the shifter knob at one of those novelty discount places".
Most guys do a resto-mod to hit the show circuit and do some summer road trips in style but Zacc built this '68 Dodge for far more practical reasons: "It's a winter truck so it's got a V-plow for the winter. We use it in the winter and drive it in the winter but it's also wired to pull behind the motor home".
Zacc's most obvious question is all about the road manners of his resto-mod Dodge truck and he was totally honest about the experience: "It's very much underpowered with the big wheels and that 4.7 and it drives a like brick on the road but it's pretty good overall. I run it around 100K (62 mph) on the highway and at 110K there's a bit of air noise. It's got good AC in the summer".
This truck has already had some real world mishaps in its short life as a resto-mod: "It got a dent in the headlight trim when it was being towed behind the motor home. My son's buddy got stuck in his Cobalt so he pulled it out with the truck. The Cobalt sideswiped the truck and did a little damage but the Cobalt had a lot more".
Projects like this rarely have a practical side but Zacc's '68 Dodge may be one of the most practical resto-mods ever built.
Jerry Sutherland
CLICK HERE to Like us on Facebook
CLICK HERE to Follow us on Twitter
CLICK HERE to Follow us on Pinterest
Please re-post this if you like this article.