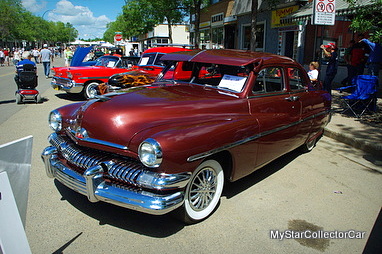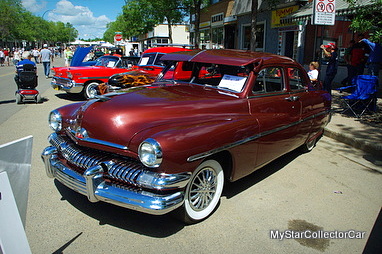 There are some cars that are destined to be customized.
Ford created a monster with the 1949-51 Mercury because this car was 75% of the way to custom status right out of the factory.
Many of these classics Mercs survive to this day, but few remain in near stock condition.
Russ Holtby has always been a Blue Oval but he has a keen interest in these classic Mercs.
Russ explained the background behind his '51 Mercury 4-door sedan: "I've always been a Ford product guy-I've had Thunderbirds, Crown Vics-you name it but this car has a style-it's a step up from a Ford. This car is a barn find because it came out of barn in Saskatchewan (Canada). The guy knew where it was and he found it–then the guy took it down to Barrett-Jackson. It ended up at the Okotoks auction, they took the reserve off and I bought it as-is".
Terms like "as-is" can have frighteningly negative consequences, but Russ had a lot of information about his Merc: "I got two thick books on the restoration. It took about three years and it has all original parts and a lot of them are sitting in my garage. The only thing I don't have is a fuel pump".
This old Merc has a 255 cubic inch flathead under the hood coupled to a three-speed manual with overdrive.
There's a Holley four barrel and an Offenhauser intake and Russ explained a few other mods: "It's been converted to 12-volt from 6 volt, it's radio delete so there's a plate but there is a receiver in the glove box".
Russ is extremely happy with the overall condition of his classic Mercury: "There's no rust except for one spot on the inside door panel and there's one spot on the door frame that was rusted but the interior was roached. He got this interior out of the States because he wanted it original".
Obviously the true test of an old ride is how it performs on the road and this Merc is more than adequate as Russ explained: "It's got arm strong steering so you don't want to spend much time in a parking lot but on the highway it's pretty acceptable. It's very stable down the road but there's a bit of road noise. You gotta drive this car-you can't just point it".
There are fans across many generations who love these classic Mercs and Russ has met them all during his tenure as an owner: "A lot of old guys really like it and there are quite a few young guys who really like it too".
Most car guys have some kind of succession plan with an old ride because cars like this Merc have a legacy status in the automotive world so the natural tendency is to keep it in the family.
Russ has that covered: "I've got fifteen grandkids so I'm getting seat belts put in for them because the parents want them". The big question will be which grandkid really bonds with this old Mercury.
This '51 Merc is a testimony to the concept that you don't have to slam and modify every one of these classic old rides because the stock version stands the test of time.
Just ask Russ.
Jerry Sutherland
CLICK HERE to Like us on Facebook
CLICK HERE to Follow us on Twitter
CLICK HERE to Follow us on Pinterest
*Re-post if you like this MSCC article…thanks.