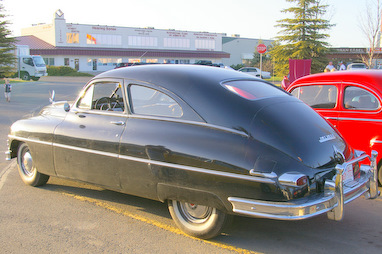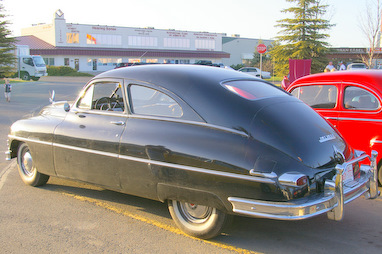 Blaine Smith is a talented resto-mod guy who makes a living building the hot rod dreams for other people.
His own automotive tastes lean toward the original and unusual, so he looked at a Metropolitan.
But instead he ended up with a beautiful stock 1950 Packard 2-door club sedan.
Packards were ahead of their time in 1950. Blaine's Packard can travel all day at 70-75 mph and get 23 mpg along the way. The car is equipped with an electric overdrive 3-speed that will drop the rpm down into loaf mode for the Packard. Blaine's Packard is a very well-built car.
There is no moisture around the doors and windows after a car wash, because the original weather-strip seals are still in great condition .
It has little or no wind noise at highway speeds, so this 60-year-old car can run with the best of today's cars.
A vacuum pump off the fuel pump supplies pressure for the brakes and wipers, and a reservoir keeps the wipers working in a consistent fashion in the rain. Most vehicles with vacuum windshield wipers are a big adventure when acceleration brings them to a halt in heavy rain.
Blaine's only modifications on his Packard was an upgrade to 12 volts, and a fuel line return to his filler pipe to eliminate a vapor lock issue in his car.A trip to South Dakota made him think that he needed a solution to the vapor lock issue, and it didn't hurt that Blaine really knows his way around a set of tools.
The car still has its original brakes after 60 years and 90,000 miles, so it is clear that Packards were built to last, even if the company itself is no longer in business.
Blaine even has the original equipment fire extinguisher in the trunk. Packard had no plans to build cars that started on fire, but they were ready in the unlikely event of a car fire.
The attention to detail and quality drew Blaine to his Packard, even though he was looking for a Metropolitan.
He is very happy with his second choice.
Jim Sutherland
For more car and owner relationships please follw this link-https://www.mystarcollectorcar.com/2-features/stories.html