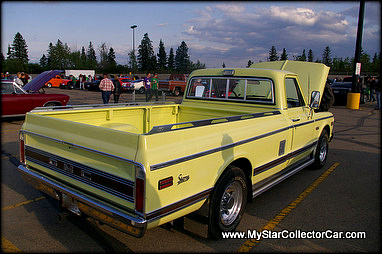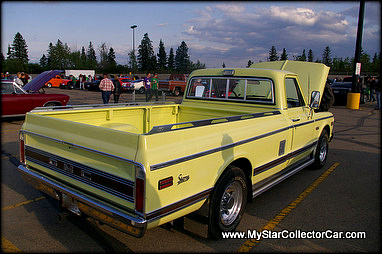 Most car guys have the same "barn find" dream.
The one where they uncover a mint survivor vehicle with extremely low miles, an impeccable maintenance history that was stored in ideal conditions.
This 1972 GMC pickup gets as close to that dream as grim reality will allow.
This barn find was purchased for a very basic reason back in 1972. The truck's sole purpose was to haul a camper around on the very infrequent occasions that its owner took a day off from his busy life as a farmer.
That was an extremely limited job description for this classic GMC truck so it had far more days off, than on the job as a recreational vehicle. Eventually the truck spent permanent time in storage so the "barn find" phase of this GMC's career became extended over years, not months.
Eventually barn finds actually get found and this GMC as no exception as its current owner, Ike Martens explained, "It was a barn find from southern Alberta, the guy bought it brand new and only hauled a camper with it and didn't use it for work. Believe it or not, it really was in a hay shed".
This extremely low mileage truck ended up in the hands of an oil industry employee and he only added 500 miles to it over a few years. Ike explained, "He divorced his wife and she cleaned him out of everything, retirement money, and especially toys so this truck had to go".
He did respect the old GMC and the tradition continued with the third owner, "He stored it in a shed too and the mileage was still kept down".
Ike found the truck in an online ad and he admitted, "All I had was a crappy picture to go by but the details behind the truck really sold me so I bought it. I talked to him for quite awhile and he had the whole story of this truck". Ike's instincts as a car guy were sharp because this 1972 GMC was exactly as advertised so he ended up with a next to perfect barn find.
There is one constant with survivor vehicles. Do not paint them under any circumstances because that will drop the value faster than a head on collision. Ike was well aware of this fact, "I had it detailed professionally and the paint came back really well. I wouldn't paint it, not when it's original".
This truck's role was really defined as a part time specialty vehicle, "The wooden truck bed was still painted and it was like the day it was new. This truck definitely didn't do any farm work".
Other facets of the old GMC pointed to impeccable maintenance, "The glass is still original, there's original paint and interior, original dual exhausts and there's only minor pits in the chrome. The only non-original things are the running boards and the trailer mirrors".
The power train was exceptional on this truck because it had the legendary factory 350 V-8. Ike only made one modification, "It had 4.10 gears so I stored the original 350 transmission and replaced it with a 700R. It went from 3500 to 23-2400 rpms at highway speed now". Clearly the original owner was concerned about hills when the truck was in RV mode back in '72.
Essentially Ike found what most car guys can only dream about with this 1972 GMC truck. This is a mint condition classic truck that looks and acts like it's still almost new.
That's the Holy Grail of barn finds.
Jerry Sutherland
Follow us on Facebook at-http://www.facebook.com/MyStarCollectorCar
Follow us on Twitter at- https://twitter.com/#!/MyStarCollecto1 
Follow us on Pinterest at- http://pinterest.com/jerrysutherland/classic-iron/