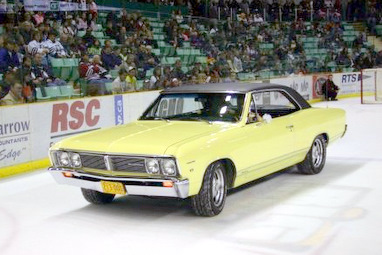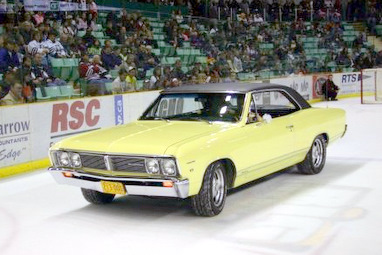 As most North American car guys know, over the years Detroit has built specific models for Canada.
They never sold these oddly branded cars in the States so these Canuck-mobiles really get attention at shows south of the border. 
The Pontiac Beaumont was a dead ringer for the Chevelle of the same era-except for the trim.
Gerry Paquette is a car guy's car guy and he loves the old iron, but as an employee at a former Pontiac dealer  his natural inclination is towards the Poncho nameplate.

He's owned a few of these 'Canadian Chevelles'– "I already had a 1967 Beaumont that I'd had for 3 years but it was time to redo it or buy something else".
His love of Beaumonts has been a lifetime commitment "My love for Beaumonts dates back to Dec of 1966 when I purchased a brand new white with a blue interior Beaumont 2-dr custom 327 4-speed bench seat car, off the truck…
I was living in northern Saskatchewan at the time and have a lot of memories from that time, some good some bad but I choose to only remember the good ones therefore my passion to own another 67 Beaumont, but being young and foolish I had to sell it and as life goes on, marriage kids etc! finally in 2003 is when I purchased the blue one, which is quite a story in itself. I am still looking for my original car of which I have the serial # and GM Documentation, and if anyone can help me out with that one it would be super."
…like every car guy who gave up a beloved car from the past, Gerry clearly hasn't given the hope that car and owner could be reunited.
But this particular car has a good history as well "This 1967 Beaumont Custom was purchased by Tom Harding from Trapp Motors Ltd in New Westminster BC. From the records that I have Mr. Hardman drove the car for 157316 miles when there was an engine rebuilt done Nov of 1984 by Dave's Auto Repair in Langley BC. The original engine was not rebuildable so Mr.  Harding found a replacement 327 block (I decoded it and it's a 1969 big journal 327). Also in 1984 Mr. Harding bought 2 new GM fenders but according to the records the body and complete paint job was done late Jan 1990 at 162204 miles by Sunshine Auto Body in Langley BC. This is still the same paint job today. Tom Harding kept a little book of records for all the work that was done on the car and according to his records the vinyl roof was replaced in 1992 but I do not have that invoice.
The story that I have from Daryl was that the car sat in Mr. Harding's Rec Room for about 15 years which I would love to verify. Denise Gronlund, Tom Harding's daughter according to the story, had to knock a wall down to remove the car from the rec room".
Gerry would really like to confirm that odd information about his odd Canuck Pontiac.
Gerry is a true blue car guy so this '67 Pontiac doesn't ride on a trailer to car shows and that's contributed to a few car adventures en route "The longest trip that the car has taken since I've owned it is to Radium last September and that was a lot of fun except for my alternator that quit charging. I had modified it to an internal regulator just before the trip and after we stopped for lunch in Canmore, filled up with gas and hit the highway again my gen light came on but being a good old car all it needs is a good battery and hope the alternator doesn't seize up (not like the newer ones no alt –no power- no go) we can carry on".
Gerry drives this old Beaumont any time he can and he can be seen at most local shows-he's a devout supporter and organizer at many of them. He has some minor plans for the car "I want to keep the car as original as possible although I want to add disc brakes to the front because in this day and age we need some good whoa when driving in this and any other city. The car is what it is and I would like to keep it that way. I get a lot of good positive feedback on the car, like Man that's a nice car, where does it come from etc etc. As far as this car it's a lifer unless I find my original car then it would be open for debate maybe".
Again, like every car guy on the planet, Gerry has that 'other car' that he covets "I just need one more car besides this one and that's a 1964 Pontiac Custom Sport convertible 327 Powerglide just because".
If you see consistency in the Gerry Paquette story it's not accidental-he likes his cars to be classic and Pontiac.
Even if they look like Chevelles with a Pontiac grille.
Jerry Sutherland