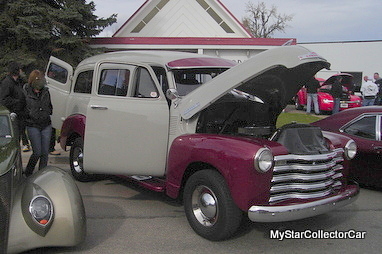 The 1947-54 Chevy Suburban truck had a basic design that changed very little over the course of seven years.
The cosmetic differences were fairly minimal by comparison to the sweeping changes made to both the 1955 Chevy car and truck lineup.
A typical Chevy Suburban Carry All from the pre-1955 era was likely used by people in the trades or transportation, depending upon their needs.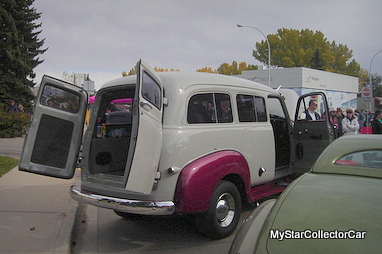 These trucks were likely used to earn a living and were unceremoniously dumped when the cost of ownership through repair bills outweighed their ability to help their owners earn a living.
It would be safe to say that nobody bought these vehicles for their sex appeal and they eventually disappeared from the automotive scene for the most part. The ones that survived developed a loyal fan club in car guy world because they could be customized into something very special in the right hands.
The right custom plan can turn what was once a post-war beast of burden into a sleek thoroughbred where the once plain Suburban becomes a serious beauty.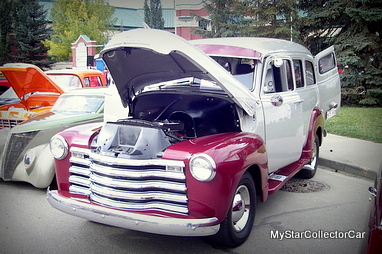 The perfect example of something very special crossed our paths at a car show when we discovered a very cool 1953 Chevy Suburban Carry All on one of the streets. The truck had drawn plenty of attention at the show- and it was a big show- so there was no shortage of four-wheeled eye candy at the event.
However, there was something unique about the creativity and quality of the custom '53 Suburban because it was a striking ride and really grabbed your interest.
An enthusiastic car guy by the name of Ron Kerekes was the proud owner of this custom ride and he was very happy to share the story of his '53 Suburban.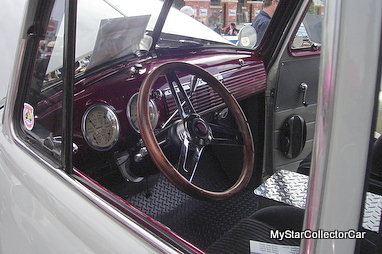 Ron purchased the truck with the body and paint already done for him, so the job to add his own personal touches became a little easier for him.
Ron is no stranger to the custom and resto-mod trade so he wanted to put his personal stamp on the project.
The personal stamp came in the form of a wild 383 stroker bolted up to a Turbo 400 transmission where Ron had his perfect combination of speed and style.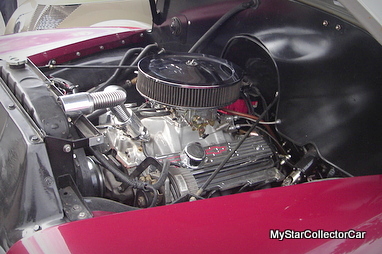 The net result is a truck that will both show and go for Ron any time the spirit moves him. Ron loves driving the Suburban and it will cruise all- day-every-day at any speed he chooses-in Ron's case that is about 70 mph on the highway.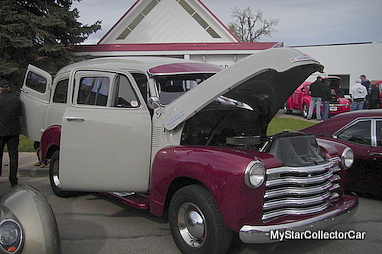 Surprisingly, it turned out Ron has a nickname: Half Tank. The name honors his uncanny ability to under-estimate the amount of gas he needs to get successfully from Point A to point B. In fact his car buddies were happy to tell us he ran out of gas on the way to the show where we first spotted Ron and his stylish '53 Suburban.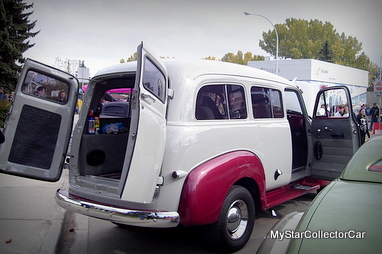 They told us Ron is famous for his ability to run out of gas and has earned his Half Tank handle many times over the years.
Our best guess is that Ron has too much fun driving his Suburban to worry about small details like fuel supply and we don't really blame him.
Jim Sutherland