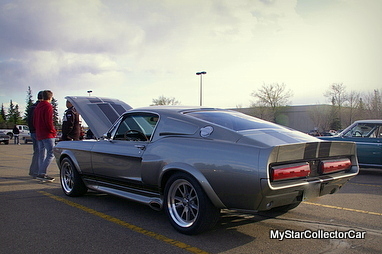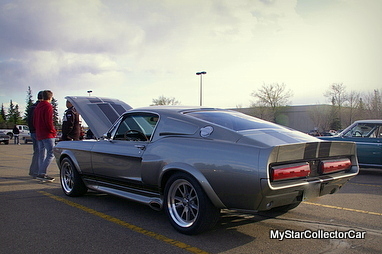 The first Gen Mustang is definitely an automotive icon and its popularity for 50 years speaks volumes about the commitment to this pony car.
Mustangs were popular but it took a guy named Carroll Shelby to put some teeth in these rides.
This '67 Mustang was a tribute to guys like Shelby who wanted to put some muscle in his steed.
Keith Wachter is a lifetime Blue Oval guy as he explained, "I've always been a Mustang guy and the Ford roots actually run in the family so this was a natural fit".
Keith had a clear vision for the Mustang, "I didn't want to lose that muscle car look but I wanted it to drive well too".
Every car project begins with a search for a project and the cleaner the car, the easier the project. This '67 Mustang was on the up side of good as Keith explained, "I found it in Saskatchewan and it looked pretty good".
"Pretty good" is a relative term when it comes to a project car because the really nasty problems lie beneath the surface. Keith recalled, "It was soda blasted down to metal because I wanted to know what I had and the rockers and quarters needed replacement so it did hide a few things".
The Mustang is testimony to a blend of old and new because on the surface is looks like a '67 fastback on steroids. The iconic roofline is there but this car bulges out a lot more than it did back in the Summer of Love era.
One of the reasons is the hood hides a work of art as Keith explained, "That's a 347 under the hood with a roller cam and nitrous". Clearly the original power train is nothing but a piece of the past.
This was not an easy project because resto-mods can take projects in new, unusual and uncharted directions. Keith was clear on that point, "It took three years to get it done because of all the changes. It's got lots of gadgets and they're all time-consuming".
Some of the "gadgets" are music to car guy's ears, "It's got 4-wheel disc brakes and rack and pinion steering plus it's a five-speed transmission now". Those are the kind of add-ons that really make sense when you build a driver in today's world.
There were more cosmetic changes to the car, "I had the seats redone but now it's got TMI seats and the hood, grill and bumpers are all changed".
Keith explained how one of the biggest hurdles in the project was the red tape, "Registering this car was a big job because it was out of province so that was a huge hurdle. I finally got it registered and the inspection was mostly a bunch of guys looking at it".
Keith's ultimate goal was to drive the car and that was the best part of the project, "It was a huge job but it drives great, it's got big power and the brakes will put you through the windshield".
This Mustang is a beast because it doesn't qualify as a wolf in sheep's clothing-it's all wolf.
Jerry Sutherland