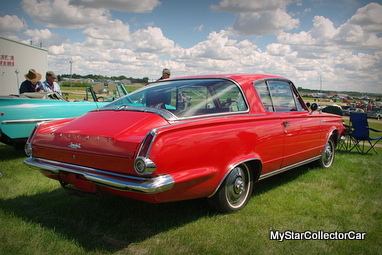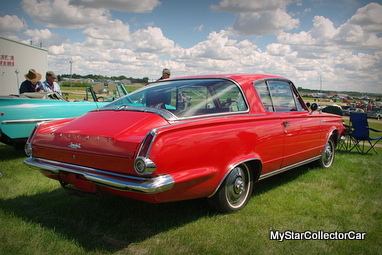 A bright red 1964 Barracuda was perched on the hill at a car show and we wanted to talk to its owner.
The story behind the car made the owner concept a part of the big picture about the car because the Barracuda's first owner was not the current owner.
But Lavern Matter had plenty to say about his first car.
Lavern donated his beloved first car to the world-famous Reynolds Museum in Wetaskiwin, Alberta, Canada.
He was a 14-year-old farm kid in 1962 when he began to plan for his first car purchase as a 16-year-old two years in the future in '64 when he would get his driver's license.
Lavern's father gave him a simple game plan: raise hogs and sell enough of them to buy a brand new car with the proceeds.
He was able to raise 3000 dollars by the time he got his license in '64 and hit the local Chrysler dealership where a brand new 1964 Barracuda awaited him-for 3200 bucks.
The choice between the Barracuda and a Valiant sedan really boiled down to the fact Lavern liked the red paint job. A flashy red car at high school seemed like a great plan to a young Lavern.
His father gave him the extra 200 dollars to cover the difference and Lavern was a newly-licensed 16-year-old driver with a sporty new car from the Mopar stable.
The car was a Slant Six tower of power with a floor shift and was bullet-proof during its long history with Lavern.
Unfortunately, in 1966 a driver blew a yield sign and smacked into the front fender of the Barracuda, so Lavern re-painted the car. In 1967, Lavern drove his Barracuda across the country to attend Expo 67 in Montreal, Quebec.
His future wife learned how to drive a standard in the car and it also took them on their honeymoon. Lavern lived in the country and commuted to his airport job through some pretty ugly weather.
In fact he recalled a brutal winter when he could not hear his engine running while driving down a snowy road.
He looked under the hood and found the engine compartment packed with snow-but the little six was still running like a top.
The Barracuda always got him to work in any conditions because it "drove through anything" in Lavern's words.This year would have marked a 50th anniversary for Lavern and his first car.
We caught up to him at the annual Reynolds Museum History Mile car show last year where we found Lavern and his family around the Barracuda because it was now a part of the show.
Lavern wanted to ensure his car would be "kept in a great place", so he chose to donate his beloved first car to the Reynolds people to ensure it would be well looked-after for many years as part of their collection.
Lavern and his family have visitation rights at Reynolds any time they want to see the car and the annual show was a good time to reunite with the family heirloom.
Talk about a happy ending for a boy and his first car.
Jim Sutherland