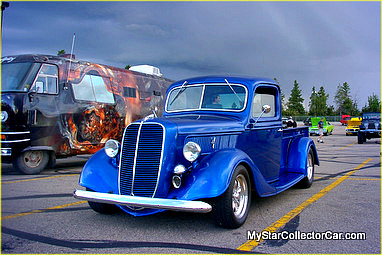 Marvin Meier has, in his own words, "always been a car guy and always been a Ford truck guy" since Day 1 so this '37 Ford pickup was a natural addition to a Blue Oval garage.
The '37 Ford is a "tweener" in the Ford 1930s lineup because it's too new for the classic '32 era and too old for the 1940 era but it is still a classic in the true sense of the word.
Marv made a few mix and match concessions to the Ford lineage in this truck but the end result is a vintage hot rod package.
The truck was originally from Washington and it had spent every one of those years in the Pacific Northwest. Marvin explained several of those years, "an old guy had it for 30 some years, it did the parade route and he kept it all original". In other words, this '37 Ford truck had a pretty light workload so the longevity makes sense.
Marv found it by accident as he recalled, "I was touring the Gulf Islands and I spotted this in the bush. It looked interesting". Marvin was more than interested so he picked up the truck and began the first steps in a project.
Marvin's original plan was simple – keep it original and stock. Reality is a big factor in this equation as he recalled, "I wanted to keep it original but I also  wanted to drive it so I decided to put in a 350".
This shift in the game plan led to a ground up project that took 6 years to complete. Marvin attributed some of this to substandard working conditions, "My shop was a little cool at times, so I slacked off a few times. It was like doing a little dance…one step ahead and two back".
Marvin spent a big part of the lengthy project on the list of modifications because he had specific goals in mind for the truck. The first priority was drivability so the 350 Chevy was a natural fit for an affordable and reliable self-made project.
The brakes were another issue as Marvin remembered; " I didn't like the braking system so I wasn't too keen on getting it on the road without an upgrade".
He solved that problem with a Mustang II front-end upgrade and a 9″ Ford rear end out of a Lincoln Versailles. He admitted, "I went with the 350 Chevy because of the Mustang front end and I went with a 9″ Ford because it was a 9″ Ford".
Old school hot rodders stuck to one mantra: "to work with what you have you have to make it work" and the seat in the old truck is a great example of this philosophy. Marv explained, " A lot of guys go with bucket seats in a rod but I wanted something I could take my grandchildren in so I found a Mitsubishi seat and shortened it 5″ to fit. That way I could have a bench seat for them".
Marvin also did the wood in the truck bed to a much higher level than Henry Ford set on the assembly line plus he added a hidden audio system to the old work truck in another nod to the 21st Century.
The color is another example of the liberal interpretation of what works in a custom because this car is painted in a 2004 Dodge Viper paint code. Mix and match what works…that's how custom car guys roll.
Last year was the first full season for Marvin and this incredible '37 Ford truck and many of those miles were spent with his grandchildren riding shotgun. This evokes a serious vintage automotive learning curve for these kids as Marvin explained, "The fresh air crank still works so my granddaughter cranked it shut and asked why the air stopped".
Marvin had a great summer last year doing short shakedown trips with his grandkids and he has more planned, as he explained, " I'm going to do a lot of local shows and maybe a few within a 100 miles".
He's done the shakedown season in the '37 Ford so 2012 promises to be an incredible year for Marv and his grandkids on the car show circuit.
Jerry Sutherland
Follow us on Facebook at-http://www.facebook.com/MyStarCollectorCar
Follow us on Twitter at- https://twitter.com/#!/MyStarCollecto1