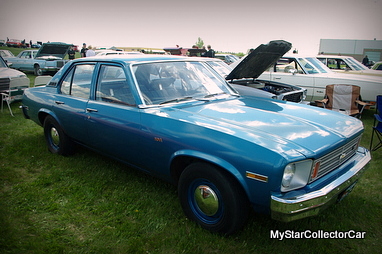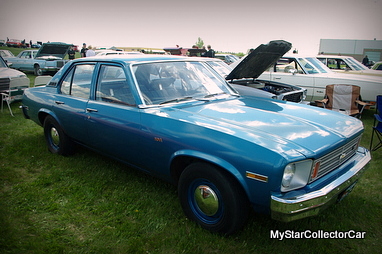 Most car guys loved the Chevy Nova for its incredible power to weight ratio.
These cars were lightweights from Day 1 so a small block would wake them up into a formidable opponent.
Very few car guys like Novas with two extra doors.
That's the dilemma Rod King faced when he acquired his grandmother's 1975 Chevy Nova 4-door sedan.He explained the history behind his nondescript ride: "I always told her if you ever want to sell your car sell it to me. My uncle said if it was a two door I'd never get it".
This Nova is a low mileage survivor because it had a very protected life: "She lived in a small town so she didn't need it for big trips. The car was mostly used for out of town guests to drive. Really-how far would you drive in a small town? The only things that ever got replaced were the batteries because it sat so much".
Rod is dedicated to the preservation of this low mile museum piece because it really is a time capsule as he admitted: "It's so original it even has the plastic on the jack and when I got it I hauled it home on a trailer. There are some things on this cat that tell you how crappy they built these cars back then".
Mid-70s cars were the victims of some very heavy handed government regulations and Rod is very cognizant of the technology in his smog era Nova: "It was the first year of the catalytic converter and it's huge".
That technology was the reason the mid-1970s were some of the worst years for performance and economy and the problems trickled down to the economy cars as Rod confessed: "It's terrible mileage for a 250 six with a tiny carb it doesn't do great".
Rod also admitted he doesn't drive his Nova very often: "It ran like crap until I put some fuel stabilizer in it I drove it twice last year and it still has show stickers from the last 3 shows. The tires are pretty iffy too".
Storage and long term inactivity are two major enemies of old iron but this Nova has survived fairly well:"I fueled it up for the first time in two years and there was a huge puddle of water under it from the condensation so I had to replace the muffler and tail pipe".
Despite the general lack of love for these cars, Rod's Nova is a time portal to another era when cars like this were the norm. Nova sedans were solid, dependable cars and that reliability overrode the lack of flash.
Rod is used to the same opening sentence when spectators surround his car: "I get it all the time-they say the same thing…I had one of those back in the day".
Many people at car shows also think this Plain Jane sedan is an old police car or taxi but the reality is cars in fleet use never survived the ravages of their daily jobs. This car was a part time employee from its first day with Rod's grandmother.
This is a family car and its destiny is to stay within the family as Rod explained:
"My son will get this because he's my only son now".
Jerry Sutherland
CLICK HERE to Like us on Facebook
CLICK HERE to Follow us on Twitter
CLICK HERE to Follow us on Pinterest
Re-post this article if you like it…thanks.