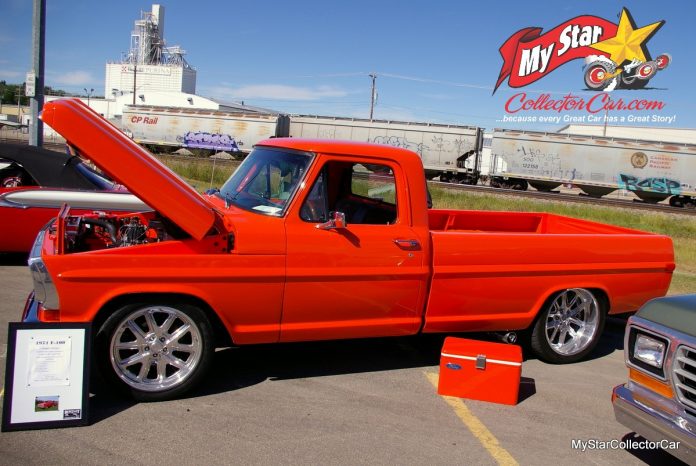 Doug Blatz is a proud Ford fan who built a long relationship with the Blue Oval brand, so the idea of a vintage Ford pickup project appealed to him because it was a way for him to cope with the loss of his wife when she was only 46 years old.
Every car guy on the planet knows a project is a major distraction in their lives and can understand why Doug wanted to immerse himself in a resto mod challenge because a project will channel his attention.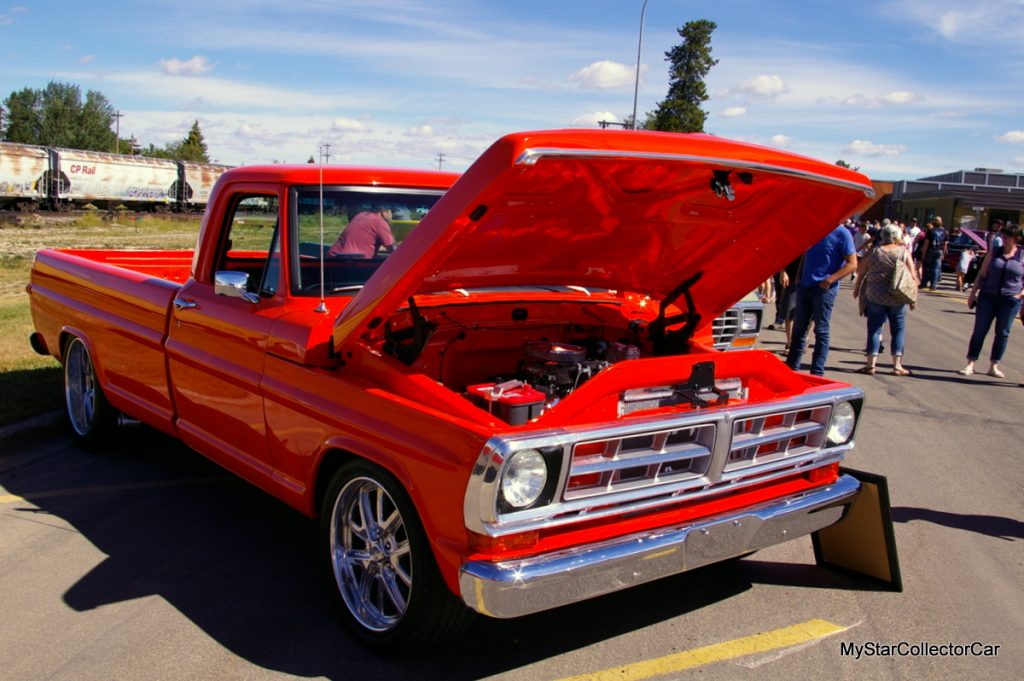 The '71 Ford pickup had been off the road for about 17 years when Doug became its owner, but it fired up, according to Doug. It was originally used as a farm truck and worked hard during its early years on the road.
He noted his F-100 left the factory with its striking Hugger Orange paint scheme and a list of options that made the pickup only 1 of 308. However, Doug intended to make the truck a one-of-one resto mod with his game plan, even though he has encountered curious onlookers who mistakenly believe the orange paint is a custom color choice.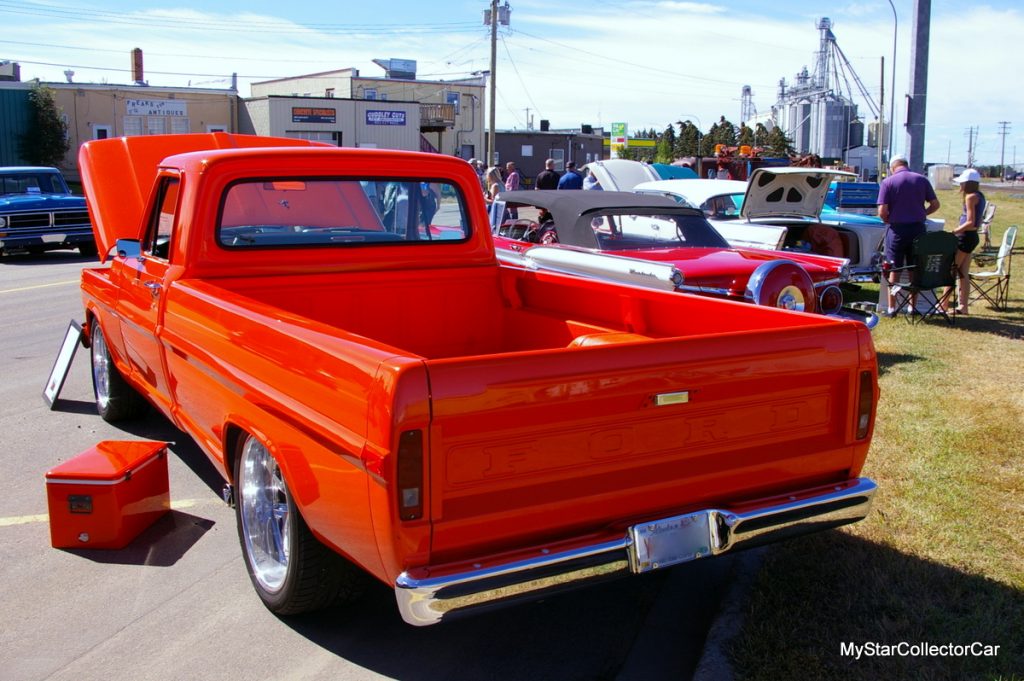 Doug wanted to blend old school style with some new age improvements during the project. For example, he used the front clip from a Ford Crown Victoria because it offered a superior blend of handling and braking improvements over the truck's original engineering in this department.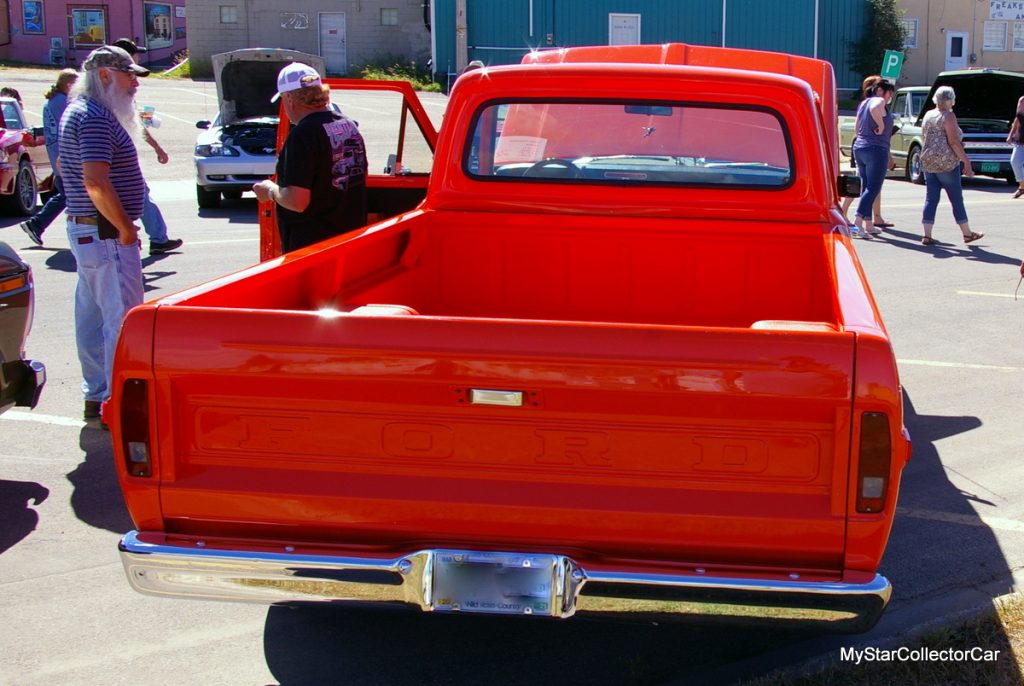 The pickup's 302 has undergone a performance upgrade, including a hotter cam and an aftermarket EFI system that give the small block engine a big boost. Doug also added a 4-speed overdrive transmission and headers to his vintage F-100.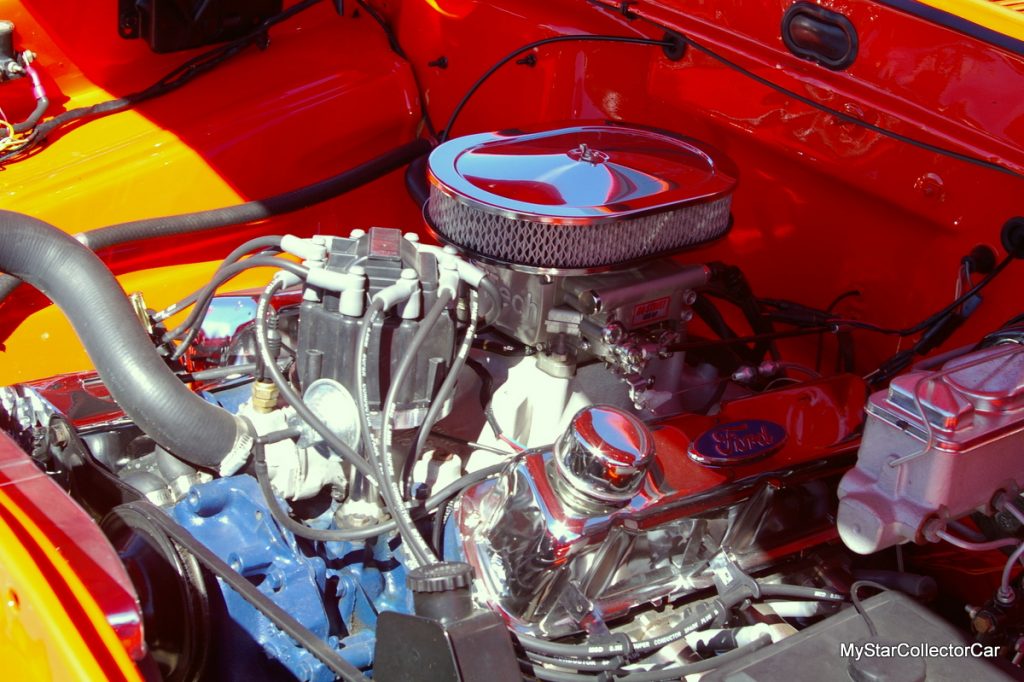 He moved the gas tank from its original position inside the cab (and behind the bench seat) to the back of the truck and replaced the original tank with a modern Mustang tank that was equipped with a beefy electric fuel pump to handle the needs of the engine's EFI upgrade.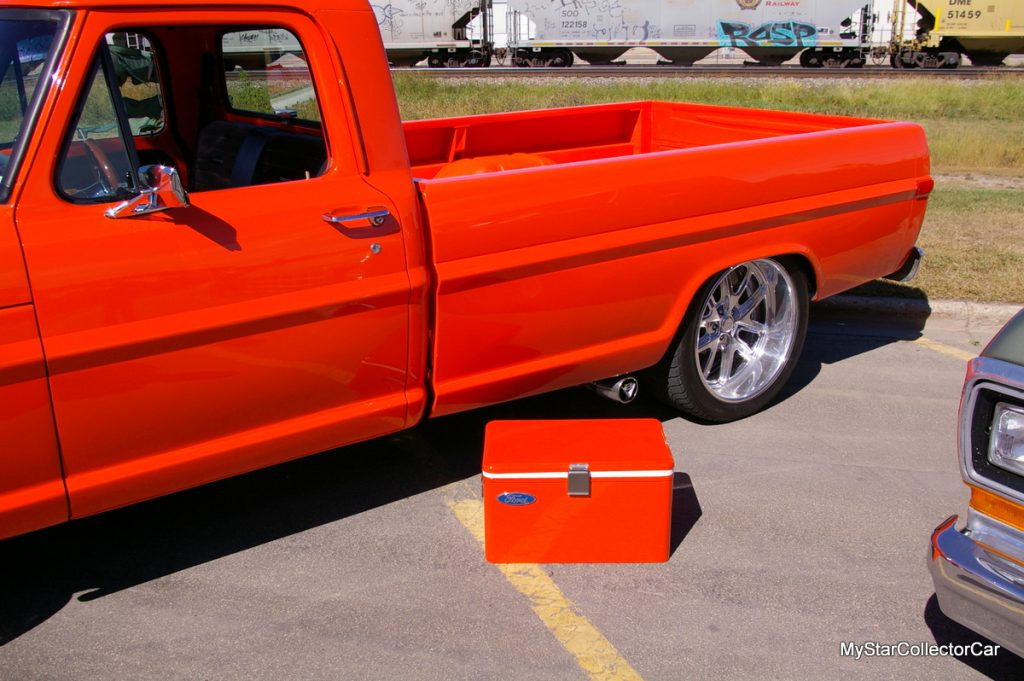 Doug was very impressed with his F-100's original padded dash and vent window rubber because he did not need to replace them after all the years. He was able to use the truck's original bench seat frame, but it did require major reconstruction during the rebuild.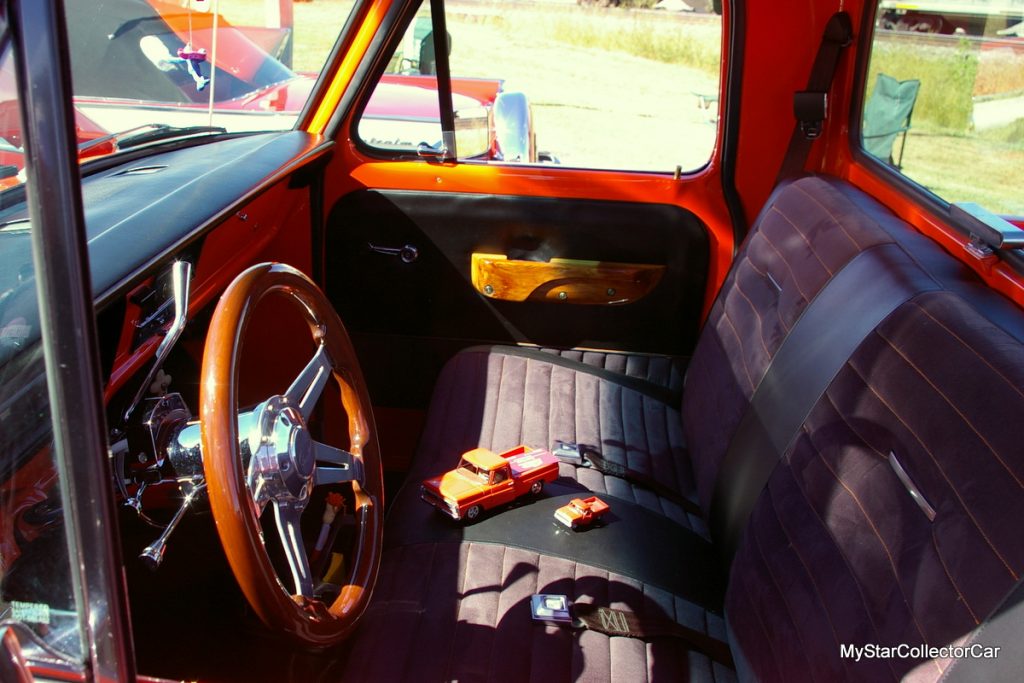 He wanted a sleek look on the truck body and filled in every possible hole, including the former location of the gas filler tube on the truck's cab. Doug installed an air ride system and dropped the Ford truck's ride height about six inches to enhance its comfort level and style on the road.
Perhaps the most important addition to the Ford pickup is a 1970 penny glued to its glove compartment door. The penny fell out of the truck's seat when Doug pulled it out of the cab, so he decided to keep it in honor of his late wife because she was born in 1970.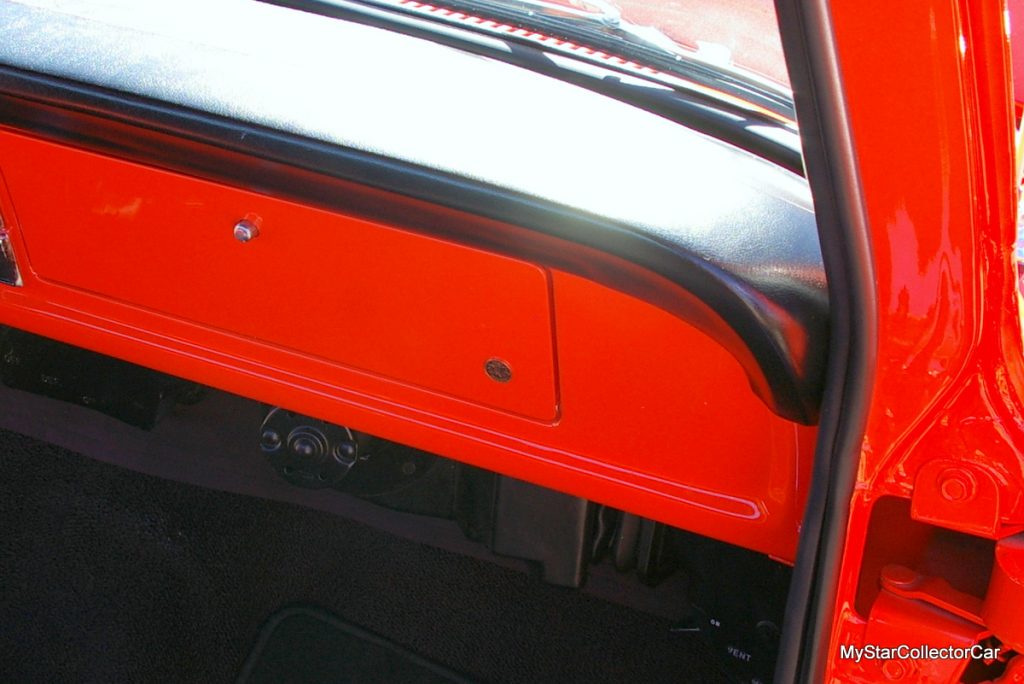 Doug wanted to acknowledge his brother-in-law and nephew's major role in the resto mod project because both used their considerable body work and paint talents to make the build a complete success.
Doug had logged 12,000 kms (over 7000 miles) behind the wheel of his '71 Ford F-100 when MyStarCollectorCar interviewed him, mainly because he loves to drive the truck at every opportunity.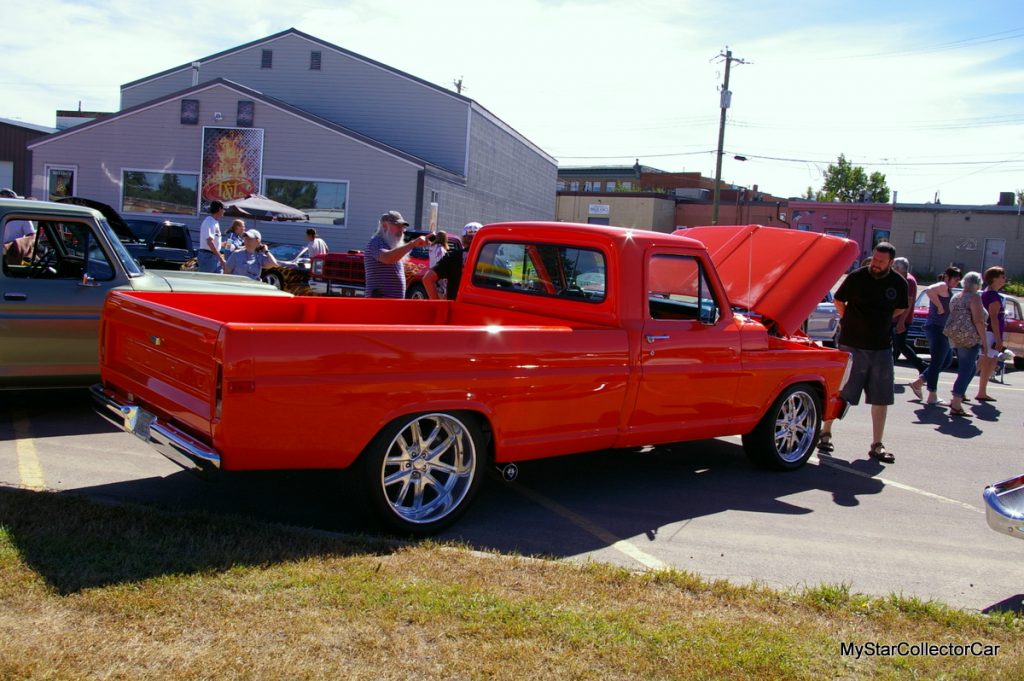 BY: Jim Sutherland
Jim Sutherland is a veteran automotive writer whose work has been published by many major print and online publications. The list includes Calgary Herald, The Truth About Cars, Red Deer Advocate, RPM Magazine, Edmonton Journal, Montreal Gazette, Windsor Star, Vancouver Province, and Post Media Wheels Section.