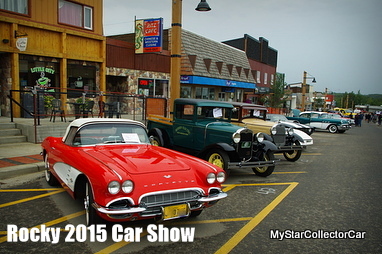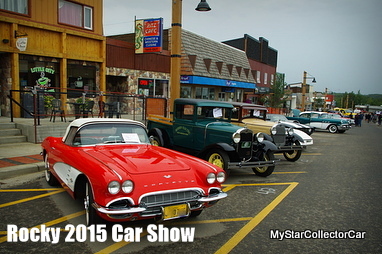 We make no secret of the fact we love car shows held on Main Street of the host towns.
The Western Wheels Classic Car Club hold their annual show in downtown Rocky Mountain House, Alberta.
The famous Rocky Mountains are close enough to see from Rocky Mountain House and the rolling hills around the town are the first indication the terrain is about to get a lot hillier (actually mountainous) when you travel west of Rocky.
Thus Main Street in Rocky Mountain House is built on a hill because of the local landscape. It makes the car show even more impressive to visitors. The show takes place over three blocks and it packs a lot of interesting rides into the small area.
The show had an unusual delegation in car guy circles: a large group of Studebaker owners. The legendary auto maker may be gone, but it will never be forgotten by their devoted fans.
It was a real treat to see so many of these Studeys in one place, about halfway up-or down- the hill, depending upon your Main Street perspective in Rocky.
We spotted a stylish 1955 Chevy custom panel truck and tracked down its owner with a little help from one of the local car guys.
The truck is pure custom and even has suicide doors to add extra cool to the ride.
The owner is a talented mechanic who had quite a story behind his '55 panel, including how he saved it after an encounter with a fallen tree. Read the whole story in a future MSCC article.
We have a rule of thumb at MSCC: get the story when you see a vintage station wagon at a car show.
A 1972 Plymouth Fury station wagon, complete with factory hideaway headlights, fit the bill to a tee. Look for the details about how this mint wagon wended its way from California to Canada in an upcoming MSCC piece.
A choice between a new Charger and a 1966 Polara convertible was offered to a young car guy.
Fortunately, he chose the 49-year-old Polara and will give the reasons why he picked a car from a time long before he was even born in a future MSCC story.
Most car guys think Ford when it comes to hot rods from the early 30s because these old Fords have dominated the hot rod culture for so many decades.
We spotted a very cool 1934 Chevy hot rod on Main Street at the Rocky show and tracked down its owner to find out about his unusual choice for a 30s-era hot rod. The story behind his hot rod Chevy will be a future MSCC feature.
There was a 1967 Mercury truck parked at the bottom of the hill at the Rocky show and it had a cardboard sign on its windshield that indicated it was a one owner truck. We were lucky because the owner's daughter steered us toward her dad and we got the whole story behind this Canuck truck.
The truck's history with its owner is well-documented because he has kept a daily life diary for 54 years and counting. Plus the truck means a lot to him and his family, including his 12-year-old grandson who may eventually be the second owner of the family heirloom.
The Western Wheels car show ended somewhat abruptly when a heavy rainstorm put a damper on things, but not before we got to soak up the atmosphere on one of the steeper Main Streets in our summer show travels.
Thanks for the exercise and stories in one great car show package.
Jim Sutherland
CLICK HERE to Like us on Facebook
CLICK HERE to Follow us on Twitter
CLICK HERE to Follow us on Pinterest
Please re-post this if you like this article.