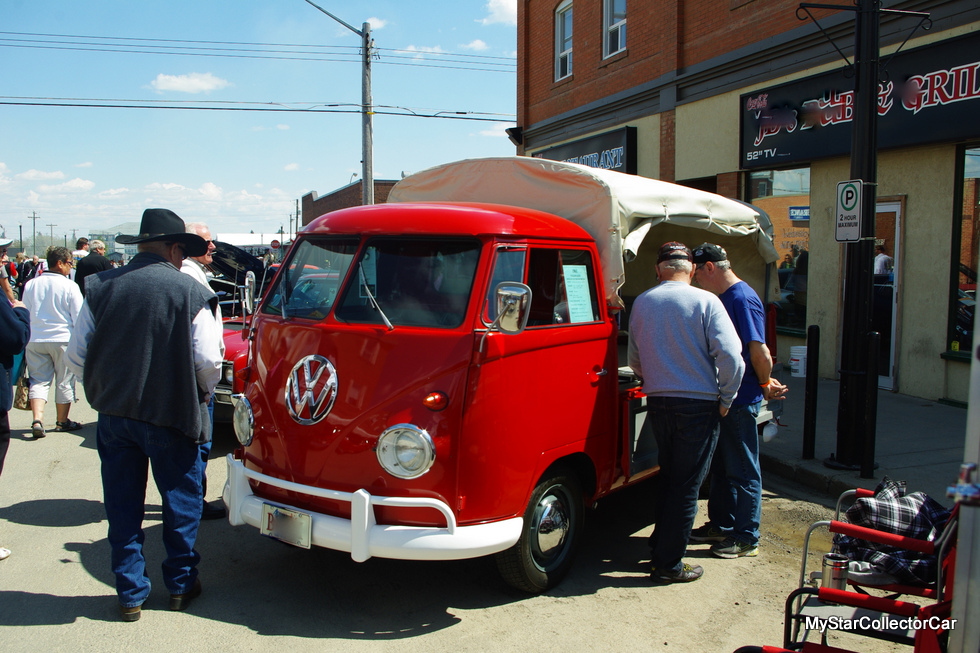 JULY 2015: 1961 VW TYPE 2 SINGLE CAB—STAND OUT AT A CAR SHOW AND RUN ERRANDS TOO
The true test of a vintage ride is the crowd around it at a car show.
You go where the people are for a story so when a car or truck is surrounded by people, you definitely have an MSCC article.
This rare VW truck easily passed the test.

These old VW Type 2 Single Cab trucks have automatic rock star status because they're so rare. This was one of those circumstantial purchases because Ken and his son took a lengthy road trip look at a VW window van.
They covered a lot of territory, looked at few more vans and finally decided to check out a VW truck in Portland, Oregon. Ken popped on the sale and drove his new ride home.
That trip home took a mere five days because this truck (in stock form) could only muster 40-45 miles per hour.
Ken Kennedy is a huge fan of these German workhorses and his commitment is found is in his patience. He's owned this VW for twenty years and he admits he "worked on it for 6 years".
Ken is proud of the blood he put in the project because he literally did everything to his Type 2 by himself and this VW needed some serious panel work. He's particularly proud of the paint job and admits, "It was my first go at painting and it's got a few runs and ripples but it's mine".
This truck was also upgraded to the 1600 engine so this truck is a beast—in relative terms. Ken estimates it could do 70 (miles per hour) on the highway but he likes to keep his "highway flyer" at a more sedate 50.
Most old rides are long past the practical stage but Ken has solved that problem because this VW truck still has a part time job.
Ken hauls stuff like lumber, flowers and trees in his Type 2—something you'll never see with a vintage Vette owner. This truck also doubles as a storage unit in the winter so Ken may have the most practical collector vehicle on the planet and this is reflected in his wife's attitude. Ken was happy to report, "she really likes it".
Ken's best experience with his VW happens at every car show. He's usually surrounded by people and he fields numerous questions about his rare truck.
Most people are curious about things like the drop down side panels and the more knowledgeable guys hit him with a barrage of technical questions. He fields every one of the questions with patience and insight.
Road manners are the biggest topic and Ken is happy to explain his experiences on the road in his Type 2. He has no problems in big city traffic because these trucks were built for urban warfare so his VW Type 2 slips in and out of lanes like a champ. He hasn't added a radio because he confesses he "couldn't hear it anyhow".
In the end, the truest test of an old ride is the enjoyment factor and Ken's '61 VW is clearly at the upper level of that category.
Jerry Sutherland
CLICK HERE to Like us on Facebook
CLICK HERE to Follow us on Twitter
CLICK HERE to Follow us on Pinterest
Please re-post this if you like this article.