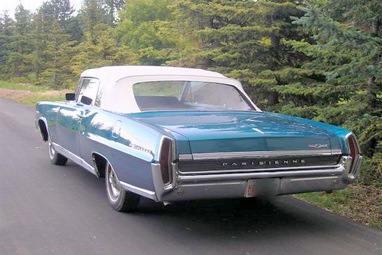 Most sensible old car owners get an appraisal done for their vehicles as a matter of good sense and logic after a purchase or restoration.
'This kind of common sense eliminates knock down brawls with your insurance company if something extremely bad happens to their automotive pride and joy.'
Ken Dawonik is one of those sensible guys so he had his 64 Pontiac Parisienne convertible appraised right after buying it and the appraiser gave him some good advice-restore it to keep the value…
Ken took the advice.
Ken didn't exactly drive the wheels off this Canadian Pontiac-he's owned it for 17 years and he's only added 3000 miles to the original 100,000 miles on the car.
The car was a very solid survivor but the appraiser's advice was good, because the '64 Poncho needed some help.
The car didn't have major issues but it had enough minor rust to turn into a major problem so Ken gave the thumbs up to a complete nut and bolt restoration.
In this case, the nuts and bolts were replaced with high quality stainless steel-definitely a step up on the GM originals.
Ken was smart about this car-he's kept as much of the "survivor" status as possible so the interior was stripped, blasted, redone and fitted with…the original seats. The car still has factory correct bias tires as well, so you could easily argue that this rare Pontiac is a great combination of factory original and improved.
Not only that he's lucky enough to have a complete paper trail for the car from Day One-that puts a huge value on the survivor status of this Pontiac.
Ken hasn't touched the 327 V-8 or Powerglide automatic for one reason-the car didn't need it-it runs like a top and he isn't a guy to tinker for the sake of tinkering. That would defeat his philosophy-"preserve and improve if necessary".
Ken's appraiser saw the car after the restoration and he was highly impressed with the quality of the work and the preservation of the car. Naturally, the car's value improved as a result, but Ken was happy that the advice not only saved the car-it enhanced an asset.
'Ken hopes to have this rare Pontiac out more in 2010-he might even up the annual mileage on the car-from around 180 miles per year to maybe 250.'
Jerry Sutherland