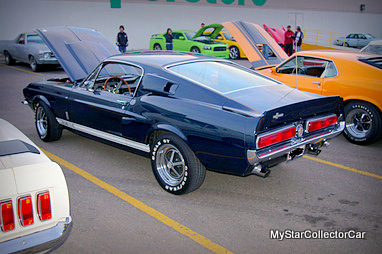 Greg Babino is an ultimate car guy.
'He has always loved more power under the hood-even as a kid in the 70s when gas spiked at the pumps and it hurt wallets to feed all of that horsepower under the hood.'
Greg didn't care, he just wanted cars that danced a little in the streets.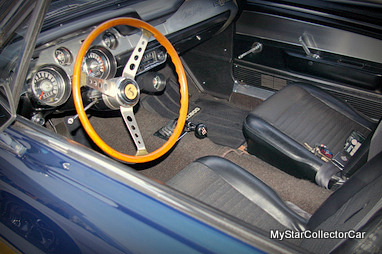 His dream car was a 1967 Mustang GT 500 and, in 1998, he became the proud owner of the 2771st GT 500 built by the Blue Oval Boys. Greg found the car in Cleveland and bought it from the second owner, an accountant. The first owner was also an accountant so these guys did what every accountant does best:
They kept a paper trail on the 'Stang.
Because of its former owners,  this Mustang has every bit of maintenance and warranty documentation ever done on the car so Greg has the real deal with his GT 500.
Greg is also the kind of guy who likes to drive his investment, so he drove his Mustang 1600 miles from Cleveland to his home considerably northwest of Cleveland.
Even so, Greg's car still only has 52,000 original miles on it.
Greg also replaced his 428 police interceptor original mill with a beefier 427 side-oiler so he can spend even more money on tires when he hooks up the big block monster with the factory 4-speed. But don't worry, Greg kept the original 428, and it is currently on holidays in a safe place.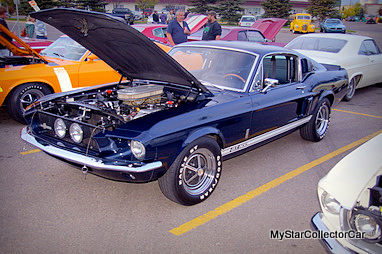 Greg found the car through The Snake Bite Bulletin, a publication dedicated to Ponies on steroids. Greg was not a big Internet guy in 1998, so the seller sent him a VHS tape to showcase the car. Greg liked what he saw on his VCR and the rest is history.
Now Greg and his GT 500 are inseparable on the summer car show circuit.
Greg got his dream car and he is never late for a show with all of that muscle under the hood.
Jim Sutherland

CLICK HERE to Like us on Facebook
CLICK HERE to Follow us on Twitter
CLICK HERE to Follow us on Pinterest
*Re-post if you like this MSCC article…thanks.