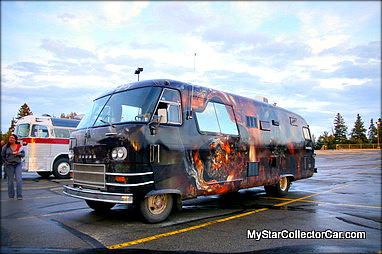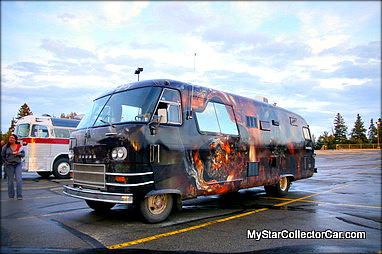 This 1966 Dodge Travco motor home has only had two owners since it rolled off the assembly line on August 20, 1966.
The first was a family that bought it in Detroit and headed to Alaska with their new set of summer holiday wheels.
The original family spent many happy summers on the road with the Travco and wanted to make sure that its new second owner was the right person for the family motor home.
Shannon Lyons became the right second owner when she first encountered the Travco-she walked around it and gave it a big hug. It was the right reaction to the Dodge as far as the original family was concerned, so Shannon became the new owner.
1966 Dodge Travco motor homes are a pretty rare sight at any car show, but the incredible paint scheme on Shannon's Travco takes things to a new level.
Shannon is a conceptual artist who hears music and then transfers the musical images into a visual landscape of colors, shapes and designs. The Travco is a massive canvas for her artistic work so she can share the striking images produced by her reaction to music with a car crowd simply by showing up at a car show.
The motor home is visually stunning on the outside, but the amazing artwork can also be found on the ceiling interior inside the Travco.
Shannon is a big fan of live music for obvious inspirational reasons, so the Travco also provides a practical way to attend outdoor music festivals during the summer months.
She tends to travel with an entourage, including one mechanically inclined friend who can work on the Travco when necessary along the way. Shannon's friend is important when it comes to mechanical work because a 1966 Dodge motor home requires a little TLC to run down the road.
MyStarCollectorCar would like to salute Shannon for her unusual addition to the collector vehicle hobby.
It's not often you get to attend an art show at a car show.
Jim Sutherland
More stories at https://www.mystarcollectorcar.com/