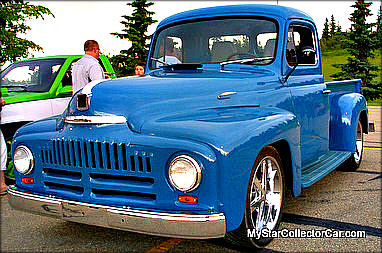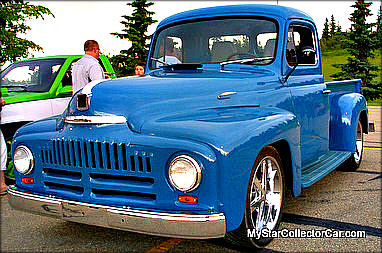 Farm kids have many advantages over city kids.
They learn the value of honest, hard work and practical problem-solving early in life plus they encounter and embrace large doses of responsibility on a daily basis.
They also get to operate large machinery on a regular basis and drive vehicles long before their city cousins even get a learner's permit.
Kevin Clews was one of those farm kids and this 1950 IHC truck was one of those farm vehicles.
Farm kids are assigned chores-city kids may not be familiar with the term but essentially "chores" are daily work duties that help the farm operation run smoothly. Many of these chores involve the routine involved with raising livestock and trucks are a big part of the process.
Kevin learned to drive this old "corn-binder" when he was 12 years old. The truck had been on the farm since 1956 so he literally grew up with the IHC pickup that cost a few hundred dollars at the time.
This was a no-frills, bare bones long box with no tailgate and a chute for grain so it was a far cry from the air conditioned, limousine-like trucks of 2012. Despite its austere appearance, the neighbors called the IHC truck frivolous purchase at the time because, as Kevin recalled, "it only hauled fuel and that seemed pretty uppity to other farmers".
Kevin spent a fair amount of time behind the wheel of the truck as part of his assigned workload but even farm kids are kids at heart so he wasn't above taking on a "double dog dare" when one of his buddies asked him if the old truck had the power to spin the tires. Veterans of old trucks know that "bull low" or 1st gear is rarely used because it's a stump puller gear designed for extremely heavy loads and a top speed of 1.53 miles per hour.
Kevin recalled, "The truck did spin the wheels but it dumped out a big diesel tank at the same time and bent it up. We were just kids so it took everything we had to get it back on the truck. I was 30 before I told my Dad what really happened".
Most of the time the future is written in stone for non-essential farm vehicles-they get a final retirement spot in the back 40 with every other piece of machinery that became too old and obsolete to function on a daily basis. This IHC was destined for that grim scenario but Kevin became involved and the truck earned a huge reprieve from a mouse-infested future as a favorite place for a cattle rub.
This was not a simple job. 1950 International Harvester trucks are quite bit less popular than 1969 Camaros so the part supply becomes an issue. Kevin wasn't entirely worried about that because this IHC truck was destined to become resto-modded plus he had the advantage of a donor truck.
Kevin had one goal with the truck-he wanted to present it to his Dad as a 70th birthday present. He added, "I did it for Dad's 70th so I wanted to make it nice to drive every time he wants to-it's even got a license plate that says DADS IH. I want him to drive it as much as he wants". He added unheard of options like comfortable bucket seats and cup holders to enhance his father's driving experience.
This truck is significantly different from the one that Kevin learned to "peel out" in when he was 12. It has a fuel injected 350 Chevy, disc brakes plus the undercarriage has been upgraded to modern standards.
The truck long box was replaced with a short box and the tailgate was completely fabricated from scratch.
Ultimately Kevin was given an opportunity that very few car guys get-the chance to climb behind the wheel of the first vehicle he ever drove. Only two things stand in his way.
His dad loves the truck plus he's still not impressed that Kevin dumped the fuel tank on the road.
Jerry Sutherland
Follow us on Facebook-http://www.facebook.com/MyStarCollectorCar