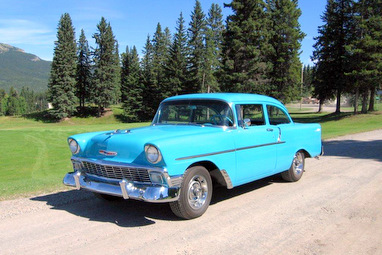 Doug Hollman is a guy who was way ahead of the curve when it came to the classic 5-6-7 shoebox Chevy.
'Most car guys realize that this vintage Chevrolet is like a blue chip investment in car world in 2010, but Doug knew this fact 4 decades ago.'
Long before the spike in prices. He bought it for 50 bucks…
Doug found this 1956 Chevy 150 in 1970–a rust free body with 54,000 actual miles. That's not something that happens very often 40 years later but even then Doug know he'd struck gold with this car.
Like nearly every average guy on the planet, Doug had to make raising a family a priority over his '56 Chevy so it sat for 20 years before Doug started the restoration. He'd wisely stored it in a heated space so the car was essentially in the same rust-free condition that it had been back in 1970.
Car projects look great when they're done but Doug spent two very dirty and nasty years scraping undercoating off the underside of the body but what preserved the metal also contributed heavily to the work involved in the restoration.
That's part of the give and take of any project but the metal underneath was like brand new.
Doug found zero rust on the car because it came from a relatively dry area and it was only 14 years old when he bought it-clearly the trick is to go back in time for true rust free cars. It was stripped to bare metal and painted properly for its next 40 years.
Doug wanted the car to remain as period correct and stock as possible so he chose and rebuilt a 283 power train for the car. Every nut and bolt on the car was replaced including body mounts plus the suspension, brakes and steering is all new. As a last step, the interior was redone to a high standard.
The car is very close to factory and, as a bare-bones 150 model, it came with no options-it has manual steering, manual brakes and no radio. Doug likes his car that way because it closely represents what he found in that farmer's field back in 1970.
Doug doesn't put many miles on this classic tri-five Chevy–in fact it's only seen 1000 miles since the restoration was done in 1995. Everything he's done with this car has been cool and calculated-after all, it was 20 years in the planning stages but he's very happy with the results. 
Doug didn't have to go back in time for a good deal on a '56 Chevy project-he just kept it stored properly over time itself.
Jerry Sutherland
CLICK HERE to Like us on Facebook
CLICK HERE to Follow us on Twitter
CLICK HERE to Follow us on Pinterest
Please re-post this if you like this article.